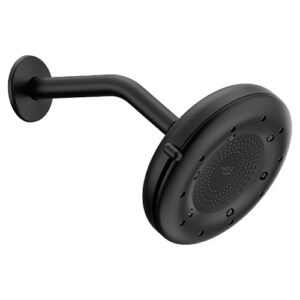 Low flow shower heads are an easy way to save water in your Katahdin Cedar Log Home. New technology has developed excellent power and features, while maintaining desired low water usage. Here are some great choices to equip your bathrooms and save water!
Nebia by Moen Quattro
Like the name indicates, the Nebia Quattro shower head (upper right) features four functions to suit all your shower needs, while using 50% less water (1.5 gallons per minute) than a standard showerhead. The added feature is engineering design that puts 60% more force into your water stream for more satisfying showers. Available in five finishes and two configurations —spray head and hand-held spray—this could be your eco-friendly shower solution!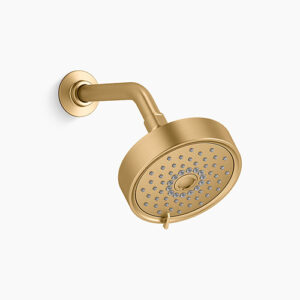 Purist® by Kohler
The Purist® shower head (left) uses Katalyst technology to infuse two liters of air per minute into the water to deliver a powerful spray (1.75 gpm) that provides larger and fuller drops that feel silky and rich. Available as hand shower or a single function shower head, Purist offers eight finishes to complement your bath décor.
Hairwand Pulse Spa System by Waterpik
This massage shower (right) is designed to deliver twice the massage force (1.8 gpm) of other showerheads with the added Hairwand for luxurious scalp massages. The spray select is easily operated on the handle and offers settings from Bliss Mist to Power Pulse Massage + Full Body. Available in Chrome or brushed nickel.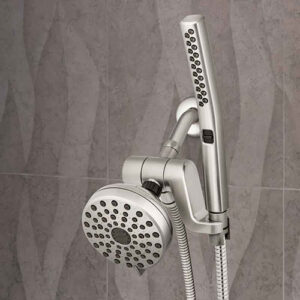 These are just a few of the shower head options on the market now. Be sure to check the gallons per minute rating on any shower heads you're considering.