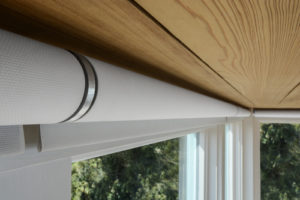 We've had a number of questions about motorized shade options for the beautiful windows featured in Katahdin Cedar Log Homes. J. Geiger Shades are  great custom motorized shades that can be controlled via your smart phone or smart control systems including Lutron, Savant, Crestron and Control 4.The shades can be hardwired, or battery operated.
The R Series and D Series motorized shade systems use a unique design of brackets and rollers that conceal unattractive wires and screws, and eliminating the need for pockets, fascia, and ceiling pockets. The R series are milled from solid aluminum and available in aluminum, anodized black or custom powder coated colors. The lower price point D Series brackets are milled from industrial strength Delrin, a high-density thermoplastic, that is both stable and strong. D Series brackets are available in white or black.
Three Types of Shade Fabric
J Geiger offers three types of fabrics for their shades: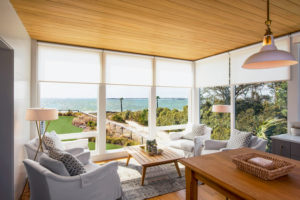 Sheer fabrics allow light in and permit some visibility
Translucent fabrics let light in but obscure visibility for privacy
Blackout fabrics block all light for complete privacy, some light may appear around the edges depending on the installation.
The fabrics are available in more than 400 different color options, with design consultations available.
The shade systems are manufactured in Charleston S.C. and installed by specially trained technicians. The hardware is installed during the trim phase of construction, though with a log home you'll want to coordinate directly with the manufacturer for the optimal installation time frame. The shades are then manufactured using the exact dimensions of the roller tubes as installed. Once the shades are completed, the local based technicians return to complete the installation.