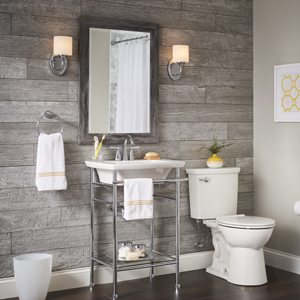 Often the most innovative designs in toilets seem to come international sources, but this water saving toilet from American Standard has some Euro flair— and it cleans itself! The VorMax Plus toilet combines innovative design with automatic cleaning with a FreshInfuser secreted away in an easy access compartment behind the seat. The FreshInfuser automatically dispenses Ocean Fresh-scented Lysol with each flush and lasts for 360 flushes or about 30 days.
American Standard also incorporated features that enhance the cleaning action of the FreshInfuser, including EverClean, a permanent finish that helps toilets stay cleaner longer. To further simplify cleaning and maintenance, this toilet's CleanCurve Rim omits the rim cavity and holes inside the bowl where dirt and buildup can get trapped and hide.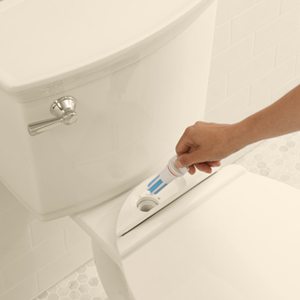 The VorMax Plus has earned a Water Sense designation to certify that it uses 20 percent less water than traditional 1.6 gallon per flush toilets use. The VorMax is available in an ADA compliant elongated bowl with "right height" 16.5-inch seat level.