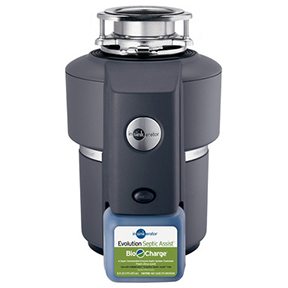 One of the downsides to private septic disposal systems is the penalty building codes require for a food disposal. Sometimes a larger septic drain field is required; sometimes homeowners are required to increase the number of bedrooms (occupants) the septic is designed to handle. Sometimes folks are wary of adding additional food waste to their septic system fearing that it will affect performance.
Insinkerator's Septic Assist Garbage Disposal aims to solve the challenge of depositing food waste into the septic system, enabling rural homeowners to consider including this appliance in their kitchen design.
Technology to Digest Food Waste
Insinkerator's BioCharge injection technology adds more than 300 million, enzyme-producing micro-organisms into Evolution Septic Assist each time it's used. The device's Multi-grind feature provides two-stage grinding to handle difficult items like bones. And not only does the environmentally-friendly Bio-Charge break down the food waste, it also works on other solid waste to keep your septic system functioning well.
This easy-to-install appliance comes with a 4-year "we come to you" warranty for parts and labor, and is assembled in the U.S. Its ¾ horsepower Dura-Drive induction motor is designed for quiet operation and long life.
If a disposal is a must-have for your busy kitchen, then Insinkerator's  Evolution Disposal is a great solution!