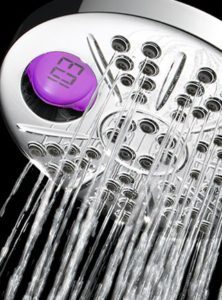 If you're looking for ways to save water and energy, knowing exactly when your shower or tub has reached temperature is a great feature. Plus, knowing the shower temperature provides a layer of safety to avoid scalds for children and other sensitive family members.
Delta's Temp 2O technology uses an LED display to show the temperature in digits and a corresponding color to indicate a range of temperature. The color coding is great for kids and adults who use vision correction. When the display shows blue the water is below 80 degrees, magenta indicates warm water between 80 and 110 degrees and red indicates hot water over 110 degrees.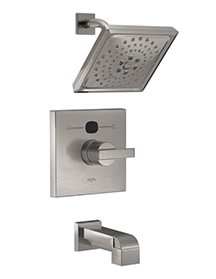 The Temp2O technology is available with a shower head unit that contains the LED display or a combined tub and shower faucet control and shower head with the LED display in the wall mounted faucet control.
The shower head features soft rubber spray holes to allow easy cleaning with the swipe of a finger, and has multiple spray settings. Temp 2O is also certified Water Sense for water conservation.