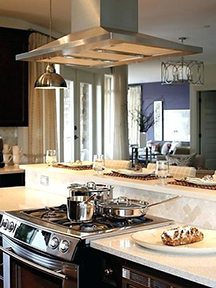 One of the most misunderstood and underutilized appliances in any home is the kitchen range hood. Most homeowners only turn the fan on when visible smoke or high humidity is produced—if the fan is activated at all. Smart kitchen hoods hope to address this activation problem by using sensors to turn the fans on automatically when pollutants are detected.
Cooking on a range top produces the most indoor air pollutants of any everyday activity in a home. Whether the range is electric or gas, cooking produces a variety of unpleasant and potentially harmful gases and particles that should be removed from the kitchen. With modern log homes that are well insulated and sealed against air leakage, the range hood becomes a very effective means to improve indoor air quality (IAQ).
New research and product development for smart hoods is ongoing based on Department of Energy action items. A collaboration between hood manufacturer Broan and Maryland-based Newport Partners, a research and consulting firm with the ability to partner with industry leadership for field and market research are working on the smart hood project. We spoke with Mike Moore, who is heading up the smart range hood research for Newport.
"Our main goal is to produce a smart range hood that can turn on when it senses pollutants from a cooking event and turn off automatically when the cooking event stops," explained Moore. The project is hard at work designing a mid-range hood fan that will be a hands-free operation offering quiet operation, efficiency and attractive features.
They've partnered with Broan, the largest US manufacturer of range hoods. Prototypes are in the works, with the goal of integrating smart features into typical range hood models and styles to coordinate with most kitchens.
The research is trying to identify the most effective array of sensors to detect common pollutants in kitchen settings. These might include:
nitrogen dioxide
carbon dioxide
carbon monoxide
formaldehyde
excess humidity
polycyclic aromatic hydrocarbons
particulate matter (PM2.5)
These sensors, once pinpointed will be paired with a variable speed fan that will activate with the right level of ventilation to handle the pollutants detected. "This is a key feature since most consumers don't use kitchen fans because they are too loud," said Moore. The fans being tested in the prototypes will run with whisper-like quiet, of less than 1 sone, a measurement of sound. By comparison, a refrigerator will generally rate 1-2 sones.
No Guesswork Involved
Moore has tested a prototype in his own home and really enjoyed the experience. "The hands-off aspect is similar to switching to an automatic transmission in a car—a lot less work that lets me concentrate on my cooking," he said. A launch date for the new products is uncertain, but we'll keep you posted!