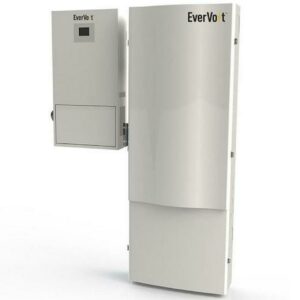 Katahdin Cedar Log Homes are often built in more remote areas, where power outages are common inconveniences. The Panasonic EverVolt™ Battery Storage System offers reliable standby power no matter where you are on the renewable energy path. EverVolt's flexibility can store excess power from your solar panel array or draw charges from your electric utility or even a gas-powered generator to keep essential circuits in your home working seamlessly.
Save Energy Dollars
Storing surplus energy in the EverVolt system  is a great solution for night time or cloudy day energy use. Homeowners who live in utility districts where time-of-use rate premiums are escalating, can apply the EverVolt standby power capacity for powering AC and other home circuits during these high rate time periods. Just recharge during off-peak hours!
Long-Lasting Capabilities
The EverVolt System enjoys a complete 10-year warranty from one of the world's top brands, Panasonic. The technology is the same as developed for electric car batteries so homeowners can count on its reliability. The company guarantees a 60% minimum capacity at the end of warranty so there's still plenty of lifespan that continues to pay back.
Flexible Design
If you're waiting to install solar with Katahdin's Solar Ready Design, EverVolt's design allows for upgrades and additional energy sources to be seamlessly added at a later date. And, its EverVolt app allows homeowners the flexibility to manage your energy flows through your smart phone anywhere.