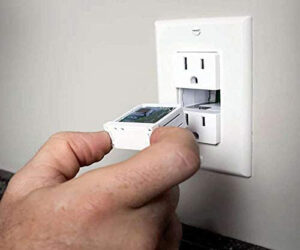 Take the guesswork out of monitoring power, controlling appliances remotely, sensing air quality and removing humidity with Swidget Smart Outlets and Controls. The system is built on Swidget outlets and controls and enhanced with inserts for various functions.
Swidget Outlets Add Control & Functionality
Swidget Outlets combine two convenience outlets with built-in functions of power monitoring and on/off controls to control your home's appliances through any smart home device or smartphone. The Swidget system is compatible with Google Assistant, Alexa, and Wave-plus home assistants.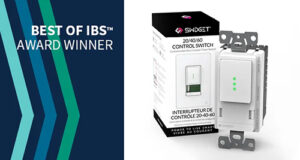 Swidget Control Switches for Lighting & Fans
Swidget Controls are designed for controlling lighting and fan operation and receive custom inserts for added functionality and flexibility. Auxiliary control switches are designed to operate ventilation systems. A new 20/40/60 Control Switch adds a countdown timer to boost your ventilation system effectiveness. Partner Panasonic's WhisperCeiling DC with a Swidget control switch to improve your Katahdin Cedar Log Home's indoor air quality automatically. Swidget is also partnered with Tresco LED Lighting for under-cabinet, spot, and flexible lighting for indoors.
Customize with Functional Inserts
Once installed, Swidget Outlets offer a third customizable component using a low-voltage interface built into the face of the outlet. Use the basic Wi-Fi insert and track power usage and switch on or off remotely for outlets and power switches. Other Swidget Inserts include:
Wi-Fi Controller + Air Quality Sensor
Wi-Fi Controller + Temperature, Humidity and Motion Sensor
Wi-Fi Controller + Temperature and Humidity Sensor
Wi-Fi Controller + Motion Sensor
Wi-Fi Controller + USB Charger
Wi-Fi Controller + Guide Light
Wi-Fi Controller + Power Out Light
These inserts can be deployed in combinations that can clear up wiring clutter, control humidity and mold growth and maintain clean indoor air remotely and automatically.
Keep Up with Technology
One of the benefits of Swidget is the flexibility of inserts to keep up with your changing needs and evolving technology. Enhance your Katahdin Cedar Log Home's power, ventilation and lighting with Swidget Outlets, Switches and Control inserts.