LG has put on its thinking cap and developed another ingenious upgrade to its already innovative TWIN Wash washing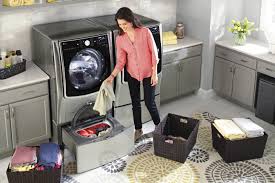 machines. Called the SideKick™ the unit allows two loads of wash— one large and one small— to wash at the same time. The SideKick pedestal replaces a basic, empty pedestal that elevates the TWIN Wash front loading machine to a more accessible height.
The SideKick is compatible with 20 or more existing LG models, so if you've already purchased one, an upgrade is easy. The company offers a list of compatible washing machines here (scroll down to "Made for Each Other"). The SideKick incorporates the same sleek details that the TWIN Wash machines feature, including a recessed electronic control panel, with 5 different cycles, including Normal, Intimates, Handwash, Active Wear, and Rinse+Spin, as well as a Tub Clean option.
And for added laundry ease, LG also is promoting new models with extra large capacity (7.4 cubic feet) and super energy efficiency to make laundry a quicker, cleaner and more efficient task.