Toilets are among the biggest consumers of water in any household – as much as 31% of your total water use. As water supplies become more stressed,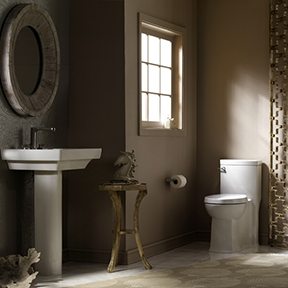 it makes perfect sense to select water saving toilets for your new home.
New toilets offer better technology and self-cleaning features that improve on standard toilets in many ways. American Standard's Boulevard Collection offers great water saving technology plus features that meet other design demands.
The Boulevard Elongated One-Piece Toilet uses just 1.28 gallons per flush. Compared with the average toilet flush of 3.6 gallons, you'll cut almost two-thirds of your toilet water use. Its Power Wash Rim cleans the bowl effectively after each use. The surface is a bacteria resistant Ever Clean surface to minimize bacteria.
The manufacturer also identifies the Boulevard as a "Right Height" model. Meaning that it's both ADA compliant and "designed with the human body in mind," according to its website. With many folks planning their log homes as their retirement homes, aging in place design features like the Right Height are even more important!