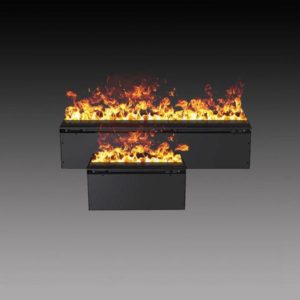 If you love the look of fire, but you're concerned about safety and indoor air quality, there's a fireplace solution for your new Katahdin Cedar Log Home. The Afirewater™ water vapor fireplace  may be a great option for real fire ambiance, with no flames, combustion gases or particulate matter. Because its fiery effect uses water vapor, there's no need for any venting, either!
What is a Water Vapor Fire?
The Afirewater fireplace uses a combination of water vapor and electronic lights to create the appearance of a flame. The fireplace units use a combination of orange LED lights and RGB lights. RGB stands for Red Green Blue, the spectrum of colors often used in televisions and computers to create a full spectrum of natural light.  To adjust the flame height, flame speed (intensity) and colors use the Afirewater's controls to gain the desired effect.
Smartphone Convenience
With the latest design, Afirewater™ Premium, the flames are controlled through your smartphone's app. Both the original and premium models may be joined together to create a continuous ribbon of flame for maximum effect. The Afirewater Premium offers more than 30 preset colors and options in addition to a natural flame color. The Premium units can be integrated with in home automation. The only limits are your imagination to create the perfect year-round ambiance.
With or Without Plumbing
Afirewater comes with an easy to fill reservoir good for 20 hours of flames. Both the original and Premium units can also be hard plumbed using ¼-inch refrigerator tubing. When installing the Afirewater in new construction it's a good idea to include power to the fireplace location, though it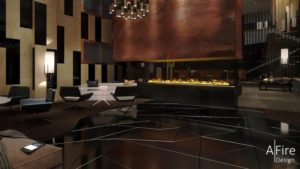 can be electrified using power cords.
Let Your Imagination Run
Afirewater allows you to add a fiery effect anywhere you desire. Imagine flames illuminating the walkway to your front door, or as a backdrop to an outdoor pool or sauna. Construct a beautiful hearth from stone or tile and enjoy lively flames without the hassle of propane gas, logs or ash removal.