If wine is your passion, you know how critical the proper storage environment is to preserve your wine collection. Adding a climate-controlled wine cellar to your Katahdin Cedar Log Home protects your wine investment. One company, Wine Guardian offers the expertise and energy-efficient environmental controls to easily add a wine cellar to your home plans. We spoke with Wine Guardian's Mike Militi to get the skinny on climate-controlled wine cellars.
Optimal Environment for Wine Storage
Militi noted that the best way to store any wine is to maintain a constant temperature and humidity. Constant temperatures between 55 and 58 degrees combined with humidity above 50 percent will allow your wine investment to age to perfection. To achieve this careful balance of coolness and humidity, Wine Guardian offers a range of ducted and ductless coolers and humidifiers to provide effortless and consistent climate controls. The size of the room and cooling system can be tailored to any dimensions and configuration, from a basement closet style to full glass enclosures for the serious collector.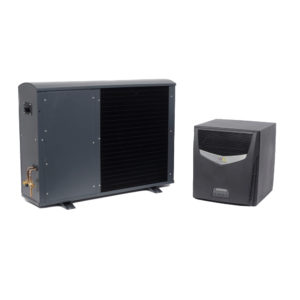 Efficient Construction Techniques
When finishing the wine cellar area, your contractor will need to insulate and apply a vapor barrier to the exterior walls. This will keep the moist, conditioned air from seeping into adjacent living areas. The vapor barrier could be plastic sheeting or closed cell spray foam insulation.
Ducted and Ductless Coolers
The Wine Guardian offers both ductless and ducted wine cooling options that utilize heat pump technology for super-efficient climate control. The heat pump can be either air- or water-cooled and may tie into a geothermal system as well. For the ducted Wine Guardian, the condenser unit is located outside and a fan coil is situated above, below, or next to the wine cellar area. The wine cellar system is set up independent of other domestic HVAC systems. Often, depending on the collector's needs, a back-up battery or generator operated system will ensure that the wine cellar environment will be unchanged when power is interrupted.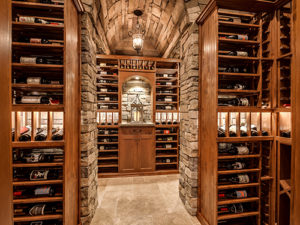 Power and Plumbing
Your Wine Guardian Wine cellar would require wiring for the cooler unit and lighting. If a humidifier is required, a water line and drain should be included in the plans. The geographic location of your home would determine whether a humidifier is added. In both dry climates and wintery climates like those in the Northeast, extremely dry air would need to be humidified for all or part of the year.
Selecting the Right Lighting
Ultraviolet light in any form has a detrimental effect on wine, so natural lighting from windows is not an option. Because of the heat they produce, halogen lights are not a good selection for wine cellars. LED lighting can provide illumination without the ultraviolet bandwidth and is extremely efficient when compared to other lighting options.
Maintenance and Warranty
Wine Guardian works with regional dealers who can assist in design and installation, though their units are easily installed by local HVAC professionals. The company offers a 2-year warranty on parts and an extended warranty for the compressor is available. Local AC professionals can handle routine maintenance and repairs. Militi noted that their staff at the upstate NY headquarters can assist with wine cellar design and recommendations.