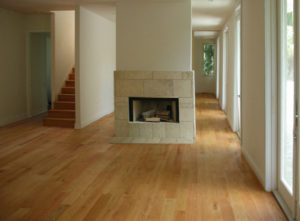 If you're searching for a zero VOC (volatile organic compounds) product to treat and protect hardwood floors in your Katahdin Cedar Log Home, consider Rubio Monocoat Oil for quality wood protection. With more than 50 standard colors (and clear) available to choose from, you'll be able to get the rich look you desire without unpleasant off-gassing inside your home.
How does it work?
Rubio Monocoat oils use advanced molecular bonding technology to adhere the zero VOC wood oil to the untreated wood. Use only a single coat for lush color that once applied and dried needs only minimal ongoing upkeep. It's an economical choice for wood surfaces, because its single application uses less product and less labor.
Easy Cleaning
Surfaces treated with Rubio Monocoat Oil need only dry sweeping and dusting with a soft cloth. Once cured over the recommended time period, surfaces can be cleaned with mild soap and water.  The manufacturer offers a concentrated natural soap to clean without harming the oil finish. Protect from outside grit and dirt with strategically placed mats on both sides of entrance doors and in from of sink areas. Should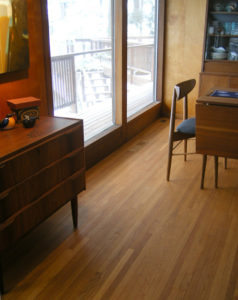 there be a pet accident or scratches, homeowners need only treat the affected area to return surfaces to original condition due to its molecular bonding technology. Deep scratches or stains can be spot sanded to the original wood surface, then reoiled with the Monocoat Oil. Minor scratches just need reoiling. No need to sand or refinish the entire surface!
Maintenance is Simple
Most homeowners will perform a restoration of the Monocoat Oil treated surfaces between 3-6 years. Two products used for restoration process are:
Refresh— used to restore the finish texture.
Universal Maintenance Oil — this protects and refreshes the color of oiled surfaces and adds a soft satin finish.
Rubio Monocoat Oil is LEED certified for applications as a low-emitting sealant and rapidly renewable product. Not sure which color is right for your home? Rubio offers 20 ml sample bottles to apply and test on wood surfaces.