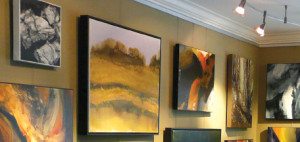 One interesting challenge in log homes, especially those with interior round log profiles, is hanging pictures. Because they are moveable, and tastes change, committing to hanging a framed painting or print can be intimidating when facing that newly stained, curved surface. Here are some options for displaying artwork in log homes.
Picture Rails— Once common in Victorian and Southern style homes, a picture rail (see left) provides an elegant solution for hanging art work. The picture rail translates well into log home interiors and avoids the need to attach individual hooks on the log walls. Select a stain-grade railing in fir or hemlock that can be stained to match your interior walls. A good source for these pre-cut rails is House of Antique Hardware.
In rooms with traditional ceilings the picture rail is placed just below the intersection of the wall and ceiling. In cathedral or vaulted ceiling rooms, select a uniform height on walls where pictures will be hung allowing enough height to fit your largest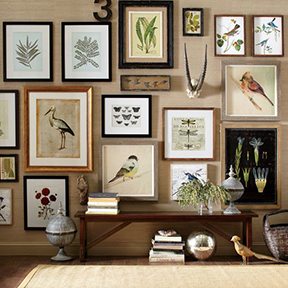 works. The rail should be at a height that's safely accessible by a step ladder. Begin and end the rail where it meets the wall or terminate at the ends of the artwork zone. The artwork is then hung from the rail using specialized hooks that fit to the rails profile. Victorian style clips can be quite elaborate, but simpler designs can also be found. House of Antique Hardware offers clips to match the rails they sell.
Groupings — If your collection includes a lot of pieces, group similar shapes together. You'll want to lay them out on the floor to experiment with different arrangements before hanging on the wall. Wide horizontals seem to work well with the strong horizontals of the logs. Align the upper edges along the same spot of the log rows, adjusting the positions using the frame's wire rather than the hook. If pictures are hung at different heights, the horizontal visuals of the log wall will make the wall of artwork look messy and unbalanced.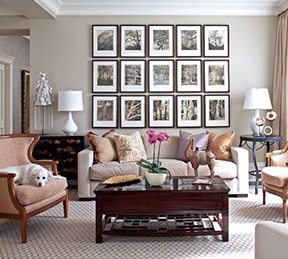 Uniform Frames— If you're using new artwork, consider settling on a single frame dimension and use custom mats to accommodate different sized items in the frames. This works with collectibles, photographs and other similar sized items and can create a unified and pleasing look.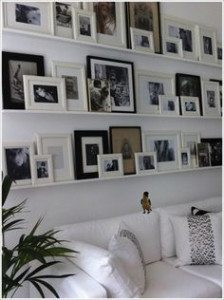 Picture Shelves— Another popular solution for art display is arranging framed artwork on shelves, basically propped on the shelf and leaning on the wall behind. The shelves are more narrow than a common book shelf and may have lips incorporated on the top surface to keep the bottom edge of the artwork from sliding off the shelf. In this feature, only the shelf is screwed into the wall. Because the pictures are essentially loose, this offers a lot of flexibility for seasonal groupings or refreshing with new art.