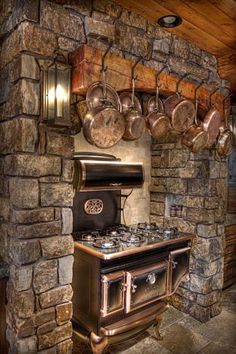 In early homes, the fireplace hearth was more than just a source for heat, it was an essential element of the kitchen. Now some kitchen designers are reinventing the kitchen hearth with a look that can be rustic or classic. We think it's a great look for contemporary log homes as well.
The hearth design centers around the cook top or range and exhaust hood. The design takes the form of a chimney for the exhaust fan and a niche into which the stove is fitted. Some designs have the stonework completely surrounding the stove, moving from floor to ceiling. Other, more contemporary designs may employ tiles or bricks on three sides of the range to function as a backsplash and thermal heat storage.
In open concept designs, the kitchen "hearth" might double as a woodstove location on the backside of the hearth/chimney. A secondary flue to service each appliance will make for an efficient arrangement for safety, space and good design.
There are several things to consider with this configuration. First, you'll want to ensure that the range exhaust fan is powerful enough to manage the BTUs produced by the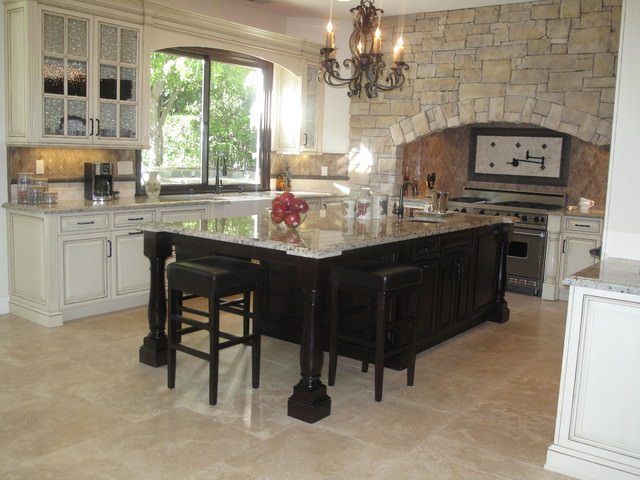 stove. The second factor is to consider a mix of tile and brick or stone. The smooth tile is installed immediately around the actual stovetop burners, with stone or brickwork on the face, chimney and back wall. This will keep the cleanup easier by keeping smooth surfaces adjacent to the grease producing burners, while offering rugged good looks of stone or brick on the facing side.
If you plan to construct the hearth from full stone or brick, you'll want to alert your log home design team with dimensions and estimated weight, just like engineering for a full stone fireplace in the great room. Then they can ensure that the floor system will be engineered to support the additional weight loads. Another option is to use thin brick, facing tiles or stones to give the stonework appearance without the weight. An experienced stonemason can also design in small niches or nooks to place tools, matches, spices or decorative items much the way hearths were customized in colonial times.