Everyone seems to have a childhood tomato or sweet corn memory of perfection. The beautiful perfectly flavored vine ripened tomato from the neighbor's garden or the yellow and white sweet corn that didn't need butter from the farm stand down the road. Today's grocery store produce, bred for shelf life and shipping just doesn't taste like real food anymore.
That's why many cooks are turning to new resources for their produce. Farmer's markets can provide tasty and often organically grown vegetables and fruits in season. Others are trying their hands at putting in their own gardens as both an economical and healthy approach to good eating. Seed companies have been developing collections of heirloom seeds, which are grown and handed down from generation to generation.
One Winslow, Maine-based company, Johnny's Selected Seeds, has taken an evenhanded approach to the heirloom seed market for vegetables,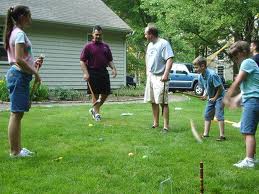 fruits and flowers. The company's founder, Rob Johnston, Jr., has built his company around the quality of his seeds. The company grows every seed they sell to test its viability, production and quality before adding it to the catalogue. Their research farm (left) features "three greenhouses, a hoophouse, and orderly fields of vegetables, herbs, and flowers" for the monitoring of the hundreds of seed varieties that Johnny's offers.
Their approach to heirloom seeds is enthusiastic, but recognizes that older seed varieties can be less hardy, more susceptible to insects and disease, and less consistent in their yields. They work in cooperation with Seed Savers Exchange to perpetuate the 52 vegetable and 22 flower varieties they offer. For Johnny's, taste is paramount in selecting the heirloom vegetables to propagate. For the novice and the pro gardener, Johnny's website offers a wealth of information on each seed type they sell with tips on growing, fertilizing and harvesting.
Johnny's also offers naturally cross-bred hybrid seeds that can provide hardier growth, consistent yield and disease resistance.
Another seed company recognized for their heirloom seeds is the Baker Creek Heirloom Seed Company. Their approach is exclusively focused on heirloom seeds grown by generations of gardeners and farmers, offering "open pollinated, pure, natural and non-GMO seeds." Their business has developed exponentially with the increasing resistance to genetically modified organism (GMO) crops, where plant DNA is modified with material from other organisms to improve aspects of the growth cycle or pest and disease resistance. It is uncertain whether these foods have any adverse or long-term effects on humans, animals or other species of plants.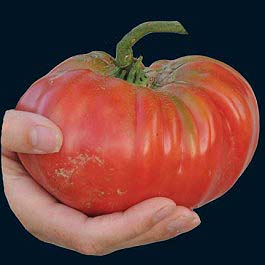 According to Baker Creek's Special Projects Manager Jerry Orton, unlike many hybrid seeds, heirloom seeds breed true to their species and can been carried down for generations. By Baker Creek's definition an heirloom seed is one that has at least 50 years of historical provenance, some traced hundreds and even thousands of years as crops. Baker Creek features seeds that were preserved from Thomas Jefferson's Monticello gardens. "One of the reasons these heirlooms have been handed down is that they tend to be naturally disease and insect resistant, Orton said. "Farmers would save the seeds if they didn't produce."
Baker Creek offers more than 140 varieties of tomatoes alone, including the brandywine tomato at right. "For me, taste is the ultimate decider," Orton said. Baker Creek works with the Petaluma (Calif.) Seed Bank, which collects seeds from around the world. The company also promotes "grow outs" where customers are encouraged to collect seeds from their gardens and return them to Baker Creek for further regeneration.