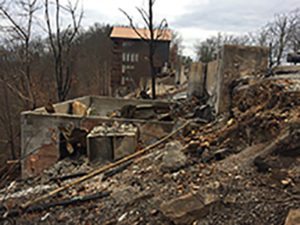 The forest fire that swept through Gatlinburg in November 2016 was devastating to this small tourist-centered town in the Smoky Mountains of Tennessee. The numbers tell some of the tale: 14 dead, 191 injured, and 2,460 structures damaged or destroyed. Despite the devastation, Gatlinburg survivors are determined to rebuild.
Katahdin's longtime dealers and LogHeads reality show stars, Tommy and Gwen Mitchell, have been on the ground in Gatlinburg meeting with residents who lost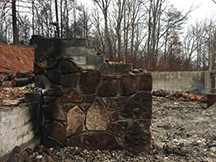 their homes. The Mitchells, based in nearby Lancaster County, Ky., felt that they could contribute in a positive way to the rebuilding effort. "Tommy and I knew we had the skills and the log homes to bring these folks back home quickly," Gwen explained.
The Mitchells have been working closely with residents who hope to rebuild  Gatlinburg homes as quickly as possible. As with any new effort, they've learned a few important things about building in Tennessee. The first step to creating their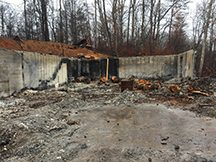 turnkey operation in Gatlinburg is to team up with a Tennessee licensed builder and engineer so they can provide the fastest possible turnaround for new homes. They're also beginning the process of applying for licensure so they, too, can be permitted to build in Tennessee as they have been in Kentucky.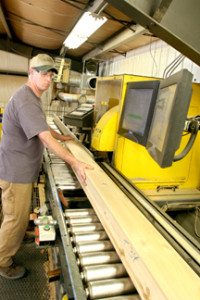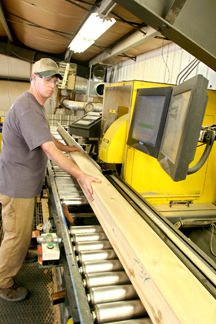 Katahdin Cedar Log Homes will be gathering their experienced dealers —including the Mitchells— for the Gatlinburg Log Home Show March 24-25 to help get residents back into new log homes. We'll have plenty of experts on site to review options and answer questions.
Why Katahdin Is a Great Choice
In this instance, residents are looking for the most expedited way back to rebuilding a new home while still achieving quality construction and energy efficiency. "The folks we've talked to want to rebuild and rebuild better," Mitchell noted.
With so many demands on local builders, it's going to be a challenge to get homes up quickly. With forty plus years of experience, Katahdin Cedar Log Homes is able to meet the quick turnaround times needed for an effort of this scale. There are four distinct advantages we have to speed the rebuilding:
Computerized House Line
While a few manufacturers have automated lines that cut logs to length, no one can match the precision and timesaving combination of Katahdin's ready to assemble logs. Each log is planed and precision-trimmed to length. What other companies don't provide are the multiple cuts for notching, grooves, splines, and flashing kerfs for windows and doors. Just the precision drilling for each lag bolt is an unmatched time and labor saver. Click here to read the specifics of our ready to assemble logs. With this precision house line, Katahdin has the unbeatable capacity to manufacture two complete average sized homes in one day!
Bar Coding & Comprehensive Building Guide
As each log is passed through Katahdin's house line, it receives a unique barcode that matches its location in the plans. The barcoded and finished kit logs are then packaged so they're grouped in the order of the construction. There's no guessing and no need to unpack and sort logs. If by chance a log is damaged, the bar code allows us to replicate its specifications perfectly. The Katahdin building guide details everything to construct each home right with precise instructions for all aspects of building a log home.
Complete Packages
Sometimes buying a log-only package may make sense for those with the time and skills to finish. However, in the Gatlinburg area limited building resources may be in high demand and more expensive. So, it's important to have all the essential materials needed to complete the new log home. Because we have a national network, Katahdin can source locally-scarce materials and use our buying power to keep costs down.
Rebuilding with Advanced Energy Efficiency
Any time there's an opportunity to build a new home, it's important to ensure that it's as energy efficient as it is beautiful. Katahdin's unique Energy Envelope System enhances Northern White Cedar's natural insulation to offer a home that meets or exceeds required energy efficiency codes. That translates into years of lower heating and cooling bills and extra comfort no matter what the weather brings.
We're looking forward to getting started in Gatlinburg. As the rebuilding continues, we'll keep you updated on the stories behind this new start.