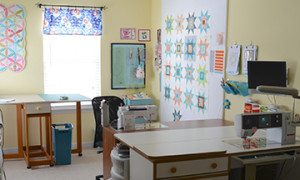 Many folks benefit greatly from having a hobby. Adding hobby rooms to your new log home can be as simple or as elaborate as you desire. Hobbies can help relieve stress, improve social skills and may even improve cognitive ability as we age. The most important thing about hobbies is that they're fun!
So it makes sense to include your hobbies in your home design.  For avid hobby enthusiasts, there's nothing better than a space set aside and dedicated to a hobby pastime. Additionally, having a space specially designed for a specific hobby can actually improve your hobby experience. Here are some steps to take to make sure your hobby has a place in your home.
Location
Hobby areas can be located in many areas of a log home. A woodworking shop might be expanded from a garage space, while a sewing room might double as a guest bedroom or home office. If your hobby needs extra concentration and quiet, a location away from the hubbub of the kitchen might make sense. Some hobbies need lots of space for equipment and assembly; others like needlework can be taken up just about anywhere. If your hobby requires lots of supplies, you'll want to allow ample storage space.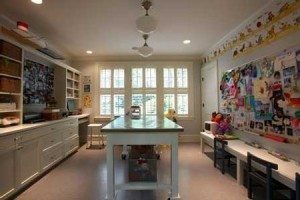 Light and Air
Most hobbies need good lighting for the activity taking place. Woodworking might need large shop lights; fly-tying might need a small LED spotlight on a flexible stand. Painting generally demands good natural light, as well as good ventilation to reduce paint fumes. If your hobby involves assembly or cutting on tables, you'll want to have excellent lighting over these work areas. Specialized venting for some hobbies, like pottery kilns, jewelry fabrication or glass blowing may be required by local codes.
Power Up!
While some hobbies are powered by human hands, others require power to operate. Quilters will need multiple outlets to power sewing machines, long arm quilters and pressing irons. Other hobbies using power tools will also need plenty of convenience outlets around the hobby area. Don't forget the tunes, either! Listening to music or having an interesting program on a television can make the hours pass quickly. If you like to have a soundtrack to your activities, make some space for speakers, a television or computer Wi-Fi hub. Having some music or radio news can make a solitary activity more congenial.
Surfaces and Seats
By surfaces, we're talking about floors, countertops, tables and benches. If your hobby is one that produces a fair amount of debris, you'll want smooth, uncarpeted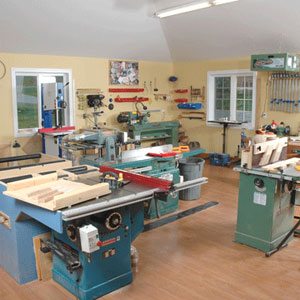 floors and sleek countertops. A sewer or quilter often cuts from large pieces of fabric, a worktable topped with a durable surface will hold up to scissors, and cutting tools. If your hobby needs to be done while standing, ensure that ergonomic mats are located on the floors where you'll be spending time of your feet. Carpeting may seem cozy for a hobby room, but remember that pins and needles, bits of wire, fish hooks, and other debris can get caught up in the pile.
Seating also plays into the enjoyment of a hobby. If sewing is your passion, invest in an ergonomic office desk chair with casters. You'll be able to scoot from sewing machine to ironing board with ease. Other passions just need a comfortable seat or a stool that can be pulled up close to the work area.
Storage and Organization
Depending on the scope of your hobby, storage might mean a simple knitting basket or bag, or a built-in unit with drawers and shelving. Whatever your particular passion, you know how much stuff you have to store and how it needs to be organized. For crafters who use a lot of small notions, stacking units with flat compartmentalized drawers may be the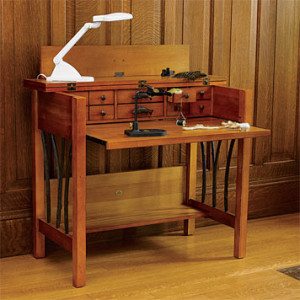 easiest solution. For large items such as power tools for woodworking, the traditional peg board offers multiple configurations and a great way to have everything organized and within sight.
Soundproofing
Some hobbies produce a lot of decibels. Power equipment, table saws, even playing a musical instrument can make some noise. Because of this, you may want to ensure your hobby room or area has some extra soundproofing in the walls so that late hours or extra practice won't disturb other family members.
Finally, if both husband and wife have distinct hobbies that are compatible, consider creating a combination hobby space so that you both can putter away while spending time together!