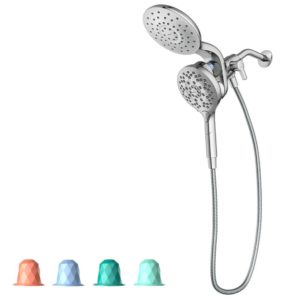 Aromatherapy is gaining in popularity as a way to add relaxation and luxury to the shower experience. While consumers use essential oils and bath salts for tub soaking aromatherapy, one shower manufacturer has developed a way to enjoy aromatherapy through the shower spray. 
Moen Aromatherapy Hand Showers
Moen created a new shower experience with its Aromatherapy Hand Showers. These can be installed as a standalone or in combination with a fixed shower head for ultimate relaxation. Moen has paired with the French fragrance company INLY™ to incorporate their spa experience capsules in four essential oil scents:
Energetic Morning
Zen Time
Tropical Day
Sweet Morning
Select a Theme and Dial Up the Intensity
Once inserted in the receptacle in the back of the hand shower head, users can select the intensity by sliding a lever into one of four positions, low, medium, high or none if no scent is desired. The essential oils then flow with the water stream without leaving a scented residue on the tub, hair or skin.
Easy to Use
To begin, shake the INLY capsule to mix the oils and fragrance together. Then insert the capsule into the slot in the back of the hand shower, then turn until it clicks. Dial the intensity to the desired level by sliding form 0 to I, II, or III. Then shower normally, enjoying the infusions to start or finish your day with just the right experience.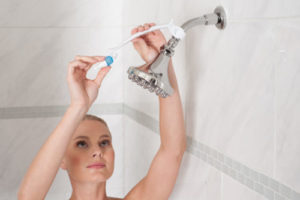 Aromatherapy Shower Accessory
If you're interested in trying out the aromatherapy shower experience before investing in a specialized hand shower, check out the ESSIO Aromatherapy Shower Kit which attaches to your existing shower head and releases essential oils onto the shower spray. The ESSIO system has a selection of six scents to choose:
Breathe
Passion
Unwind
Night
Wisdom
Clear
No matter which option works better, you can rely on the soothing or energizing effects of aromatherapy to provide a spa experience each day.