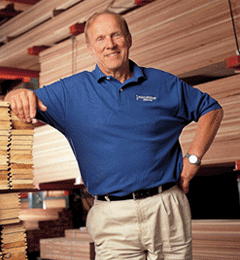 A home sauna can be a healthy and relaxing addition to your log home. We spoke with Reino Tarkiainen (right), president and CEO of Finlandia Sauna based in Portland, Oregon. "Sauna is the only Finnish word in the American dictionary," he said. "My ancestors invented the sauna more than 2000 years ago, and it still is enjoyed by millions today." He started his business in 1964, when there were virtually no saunas in the US. Finlandia imports the best wood fired heaters from Harvia Oy in Finland for the most authentic experience.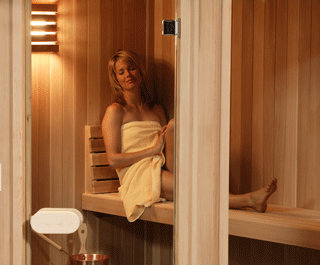 If you've never enjoyed a true sauna, the experience is refreshing. Relaxing in high heat (between 160 and 180 degrees) and low humidity encourages a perspiration that cleanses the body. True Finnish saunas allow for water to be added to the heated rocks to create steam to facilitate more sweating. After about 20 minutes in the sauna, a cool down either in a cool plunge pool or shower will wash away the toxins and cool your body down. The experience of regular use has been shown to provide some protection from colds and other ailments but as with anything, you should probably check in with your doctor if you have any health conditions.
The selection of a sauna can entail selecting among many manufacturers of kits and heaters as well as selecting just the right spot in your home for the sauna. Here are five aspects to consider.
Construction— Because a sauna is subject to extremes in temperature, it is important to use the best possible woods for construction. We like the fact that red cedar is one of the top choices for Finlandia Saunas. Their paneling is thicker than other saunas using 1"x 4" and 1" x 6" paneling, which will be less susceptible to shrinkage. Finlandia also avoids knotty wood because they can produce hot spots and leak pitch.
Waterproof floor — A sauna must have a waterproof floor so that it can be easily washed and free of odor. Concrete, tile or vinyl can all be used. If possible a small drain can be installed to facilitate easy cleaning, but is not required.
Location — A sauna can be located anywhere, but it is best to have it near a shower for washing off. It is not recommended to install a sauna directly adjacent to a swimming pool or hot tub, as the continual humidity and chlorine can damage the sauna's wood.
Selecting the heater — Finlandia offers a wide selection of heaters both electric and woodburning, the traditional way saunas are heated in Finland. The electric models are available with self-starting timers and controls. One model we liked was the high efficiency Ever Ready AV (right), which uses microceramic technology and a particularly large stone capacity to have sauna heat immediately. The unit uses about the same energy as thee 75-watt light bulbs.
Prefab or kits— You can select a sauna that is modular and is assembled from pre-construced walls and pre-hung doors. Or, you can custom design your sauna with numerous configurations, benches, custom doors and other features.
>It's easy to see that adding a sauna to your home can be a healthy choice. Selecting the right one for your home can be an easy process given the choices available.