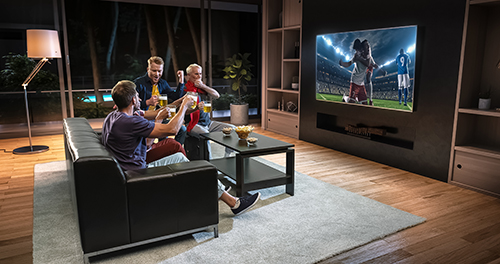 Staying at home is a way of life these days—but entertaining your whole family can be easy when you include a home theater in your new Katahdin Cedar Log Home. With smart televisions and streaming services, it's easier than ever to create your own movie screening room! Here are some tips to get you started:
Home Theater or Multipurpose Entertaining
Some folks are committed to the home theater model that re-creates the movie theater experience down to the cup-holders and reclining seats. Others wish to create a more multipurpose room for entertaining with a bar area, gaming and other entertainment. Either way this room will be a magnet for your family members to share.
Screen Selection
With the wide array of oversized flat screen televisions available, most home theaters now opt for this technology in place of actual projection equipment. With streaming services and cable options, a large screen television can take care of binge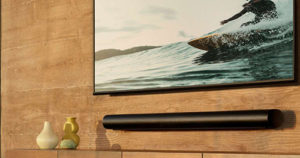 watching, gaming marathons and sporting events. For a more immersive effect check out the curved screen television options. These OLED screens offer great color and definition and make every seat in your home theater a good one.
Sound Effects
Amplify the flat screen's built-in sound with separate speakers. You may want to consult with a home theater sound expert if you're looking to replicate the actual theater experience. However, there are also some really great sound bar accessories that can elevate your experience without breaking the bank. Sonos offers a terrific set-up with their Arc soundbar that has Google Assistant and Amazon Alexa built-in for easy voice control.
Comfy Seating
Whether you opt for a true theater seating set up or more casual sofa sectionals, you'll want to select upholstery that is stain resistant and easy to clean. If cup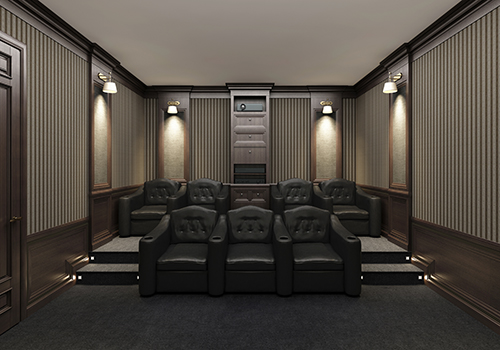 holders aren't your thing, make sure you've got a selection of coffee tables and side tables to hold snacks and drinks.
Dimmable Lighting
Make the immersion complete with dimmable lights to create a movie theater effect. Consider downward directed wall sconce lighting so that the audience can move about without danger. If your theater has any windows you might want to add some motorized light blocking shades to keep daylight out while screening shows.
Connectibility
Since much of entertainment is accessed over the internet, you'll want to ensure your home theater has hardwired ports and a dedicated router to ensure smooth downloads. Have your electrician design the theater wall with abundant electrical outlets, as well as cable ports for direct connections. If your family has gamers, including power and connectivity near or under tables can ensure an enjoyable gaming set-up.