Many folks are taking a new look at lifestyle and adding gardens to keep their families more self-sufficient. Even if you don't embrace a complete living off the land philosophy, some of these ideas can make sense to add to a Katahdin Cedar Log Home that is built in the countryside.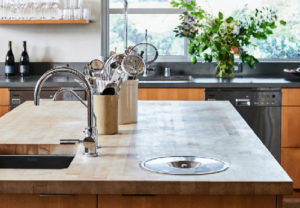 Kitchens
If you're looking to get away from it all and return to slightly simpler times, making some design decisions in the kitchen can make all the difference. No matter how serious you are about your homesteading, these improvements will make your kitchen easy to work in.
Taking on Bread — If breadmaking is one of your must-have homesteading skills, make sure your kitchen is equipped for pastries of all sorts. Start with including a marble section of countertop to keep dough cool while kneading and rolling out. Stow essentials like stand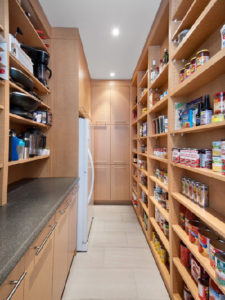 mixers, bowls and rolling pins in nearby cabinet space. A pull-out bin for bulky ingredients like flour and sugar can keep them handy.
Conserving Compost — Homesteaders often rely on great gardens for their supplies. Keeping them fed well means keeping a good compost supply going. Make your kitchen collection of veggie scraps, eggshells and coffee grounds easy with a counter cutout where trimmings from the cutting board can be swept into a receptacle separate from other trash.
Multipurpose Pantry — Design your pantry to accommodate your storage needs. If you're the cook who turns your tomato crop into tubs of marinara, a pantry freezer is a great way to store foods that aren't canned. That'll free up space in your refrigerator for more immediate needs. If your pantry has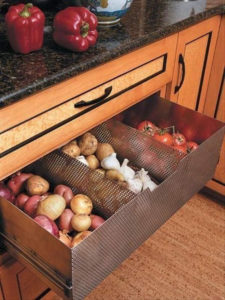 cabinets, try out a ventilated drawer or two to store root vegetables in the dark with good air circulation.
When designing shelving, size the shelf depth and height on one wall to fit standard canning jar sizes to maximize your shelf space. Using standard sized jars for other storage like pasta or dried beans can keep your space well organized.
Match Appliances to Common Tasks — If bread making or pizzas are a common activity, install a pair of convection ovens to allow for different baking temperatures and settings. Some ovens are available with bread proofing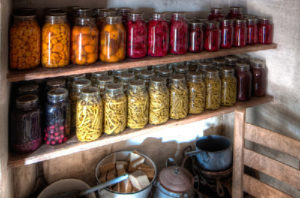 settings, which can be a boon for bakers. If canning and pasta are big in your family, adding a pot filler over the stove top can be a great convenience.
Root Cellars
Adding a root cellar to your Katahdin Cedar Log home is a great way to increase your vegetable storage without taking up valuable refrigerator or freezer space. The key to a good functioning root cellar is temperature and ventilation. Root cellars can occupy a cool corner of a basement or be dug separately into the earth in your yard. Take a look at this article from an earlier newsletter for details on how to add a root cellar to your home.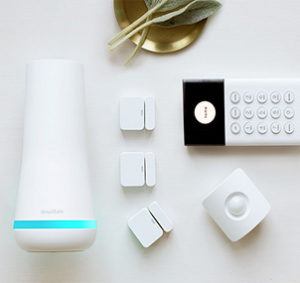 Security & Safe Rooms
To a certain degree, locating your home away from the hustle of city life includes some inherent safety issues. These can be addressed with a good security system and a safe room for shelter in a dangerous storm. Security starts with good lighting around your home, so installing some motion sensor lighting on the corners of your home can deter both animals and burglars from approaching your home. With the growing presence of in-home voice-controlled assistants, many home security systems interface well with Google, Apple and others. SimpliSafe offers a do-it-yourself approach to security. Nest, makers of the energy saving thermostat, also have security devices that interface within the Nest family of products.
When it comes to safety from tornadoes and hurricanes, a safe room is one feature that's easier to incorporate into a home design than to retrofit in an existing home. If your home site is in a location that's prone to tornadoes, hurricanes or wildfires, a safe room may be an intelligent addition to your Katahdin Cedar Log Home. Check out this detailed article about safe rooms from The View From Up North newsletter.
Whether you choose one or all of these ideas to implement in your Katahdin Cedar Log Home, you'll be prepared for whatever comes your way.