Gardens provide a beautiful addition to
any home, and landscaping can take many forms. In many traditional-style English gardens, fencing or hedges protect privacy and keep wild animals way from delicate plants. Vegetable gardens also benefit from fencing for protection of crops. Some fences also provide security and safety for pools or ponds.
Fences can take many basic forms and can be plain and simple or elegant. One way to transform a simple fence is to create a garden gate that is out of the ordinary.
Fence companies routinely construct gates for the fences they install. They can provide simple entrance functions and match the style of the fence to provide a seamless look. These simple doorways are often designed to keep people and animals out, and provide some security, while limiting access.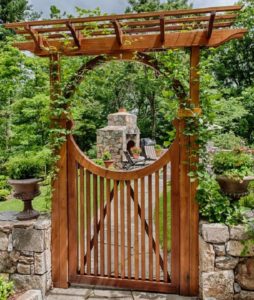 When fences are more decorative, gates can be as intricate and fantastical as the homeowner's imagination. Most gates are two-dimensional squares in form, which lends itself to many design options. A solid plank gate might have small cut outs in the shapes of leaves, animals or graphic shapes.
Mixing the media is another way to create a unique gate design. Incorporating metalwork or wrought iron with wood or synthetics can add a new dimension to the design. You'll want to ensure that the combination of materials will stand up to the elements well together. Any metalwork should be treated and sealed to avoid staining.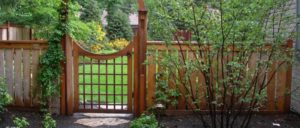 One very simple solution to customizing a gate is  to select a pre-designed arbor and attach a gate to the opening. The structure should be sturdy enough to support the added weight and action of the gate. Arbors can incorporate climbing roses, clematis or wisteria for a dramatic entrance to a garden of your dreams.