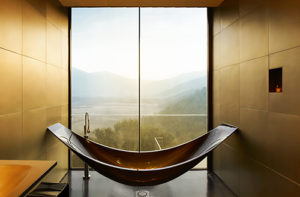 Add some excitement to your master suite with an elegant Hamaca bath from Splinterworks in Bath, Great Britain. The tub offers a deep soaking appeal with sweeping drama in its curves and surfaces. Sized individually from 2.6 to 3 meters long, Splinterworks tubs are much deeper than a standard bath.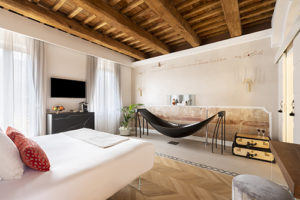 Artist and Craftsman Collaboration
Founded in 2009, Splinterworks joined the practical skills of Miles Hartwell, an esteemed furniture designer with a foundation in the combined disciplines of design, technology and business. Matt Withington honed his technical skills at an injection molding company. He, too, found an outlet for his design aptitude within the furniture design industry. Together they push the envelope in form and function with their innovative custom work.
A Vessel Suspended
The Hamaca design seems to float in air, often positioned near windows to enhance the bathing experience. The carbon fiber constructed hammock bath is suspended between two walls or two fixed supports like a traditional hammock in a tiled area, often a tiled wet room that might also have a shower fixture. The drain in the tub empties directly into a flush drain in the floor to maintain the sensation of floating in the air.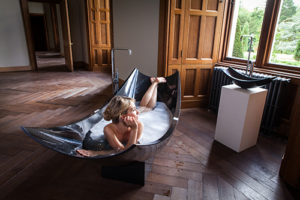 Put on a Pedestal
Splinterworks' Pagoda bath also captures a sculptural quality in a freestanding tub. Pagoda is installed on a floor pedestal with the form of the bath reminiscent of a curled leaf or ancient vessel. The Pagoda bath can be installed in baths using traditional freestanding tub plumbing and offers a rich deep soaking experience.
The two co-founders also explore furniture, kitchen cabinetry and sculptural outdoor pool slides— including one silvery pool slide recently located in a home on Lake Winnipesaukee, N.H.