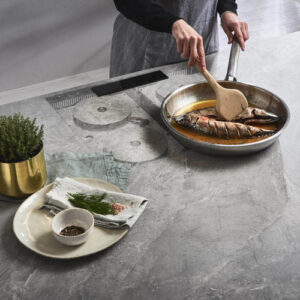 We noticed these sleek induction cooking counters at the International Builders Show in January and had to learn more! Invisicook induction cooking hobs cook through the counter top surface providing a safe, stylish, and efficient way to prepare meals in your Katahdin Cedar Log Home.
How Does Invisicook Work?
Invisicook is an induction cooking system that is installed below your counter that uses magnetic fields to cook cleanly and safely. The system requires compatible solid counter top materials and induction compatible cookware. The Invisacook system doesn't generate direct heat on the countertop, rather heats the pan where food is placed.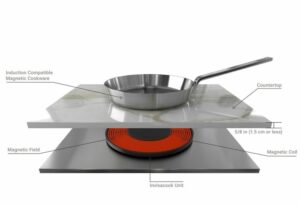 What Types of Cookware?
Any material that conducts a magnetic charge, this can be the company's own Invisicookware, stainless steel with a magnetic bottom surface or full clad stainless steel. Not sure? Put a magnet on the bottom surface of the cooking pan and see if it has a strong magnetic attraction.
Compatible Surface Materials
At the IBS show the Invisicook system was set up with beautiful porcelain countertops from Infinity engineered surfaces [for large slab porcelain counter surfaces. These high-performance counters are stain- and scratch-resistant and strong enough for heavy loads. Other materials that work with Invisicook include:
Granite
Porcelain
Ceramic
Ultra Compact Surfaces
The surfaces need to be milled to 1.5 centimeters in the area of the cooktop.
Power Up Your Counters!
Invisicook 1-, 2- and 4-burner induction cooktops are designed to be plugged into a 220-volt circuit but may also be hardwired. Controls are touchscreen units that are installed flush on the counter or slide out from under the counter. Invisicook may also be controlled using Wi-Fi and the Tuya smart app on a smart phone.
A Safer & Healthier Cooking Surface
To protect countertops from scratches and heat damage over time, Invisicook recommends using their Invisimat to diffuse heat from cookware away from the surface. The mat uses silicone ridges to direct heat away from the induction area and keep the counter top temperature to around 100 degrees Fahrenheit. Without the Invisimat protection, reflected heat from the cooking can reach twice that temperature, which decreases the lifespan of the countertop material.
Need to know more? Check out Invisicook's FAQ page.