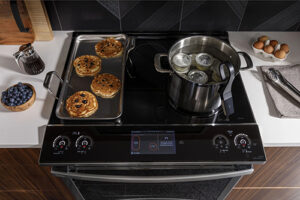 As more Katahdin Cedar Log Home owners switch to all electric operation manufacturers are responding with innovative induction ranges as an upgrade from cooktops. Slide one of these induction ranges in for precision cooking at the touch of a finger! From an indoor air quality perspective, induction ranges offer the precision of gas flames without the combustion gases, which can contribute to poor IAQ.
Induction Plus Convection Oven
GE Profile offers two induction ranges with convection oven options. Their top of the line GE Profile Smart Induction Range features front controls for precision cooking using induction magnets to create heat. The convection oven features an oven camera to allow you to see your food cooking without opening the door and losing heat. A slightly lower price point model includes many of the same features, like self-cleaning with steam and smart operation, without the oven camera. Both models include a no-preheat air fryer in the oven. This allows chefs to air fry without the need for accessories or baskets. The precision cooktop is sous-vide enabled to ensure precision performance. A great addition to your GE Profile kitchen appliance suite!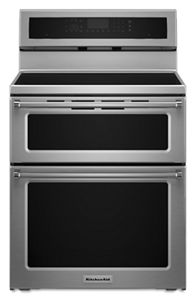 Induction Plus Double Oven
KitchenAid's 30-inch 4-element double oven convection range provides the flexibility of double ovens both equipped with Even-Heat ™ True Convection for even and efficient Convection baking and roasting. The ovens combine for 6.7 cu. ft. of space and a steam rack for adding moisture to enhance recipes. Sleek satin textured stainless steel and professional inspired design make this range a beautiful choice.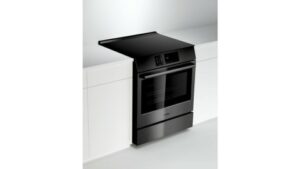 Black Stainless with Built-in Looks
Looking for a great self-cleaning oven with an induction cooking surface? Bosch's entry into the slide -in range with induction includes the 800 series in silver or black stainless. The four cooking zones include a large central circle and medium sized circle toward the back of the range top with two smaller heating areas near the front corners. Front controls offer simple adjustments to each heating area. The range slides right up against the wall providing a clean look. A great feature for the oven is a variable self-cleaning function via a 2-, 3-, or 4-hour cycle. The convection oven has half width variable broil and a dough proofing setting.