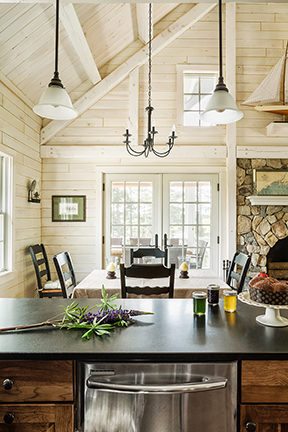 Log homes are typically finished on the exterior with a stain and protective finish to maximize the beauty of the wood. More often, log home owners are also looking to enhance the wood grain on interior walls with a wide palette of colors in semi-transparent and transparent stains.
One new trend for large spaces is applying a whitewash stain to the interior cedar and purlins. Because wood tones tends to shift interiors to a cozier and more subdued atmosphere, a whitewashed great room or kitchen area can expand, brighten and prove a stylish backdrop to a mix of brights and neutrals.
Before applying the stain, test some color samples on leftover pieces of cedar tongue-and-groove. The stain should be semi-transparent or completely so, to enhance the character of the wood. Matte or gloss paint will remove much of the appearance of depth to the wood, and as a consequence may highlight some of the slight imperfections of the cedar wood without conveying any of the character. Knotholes and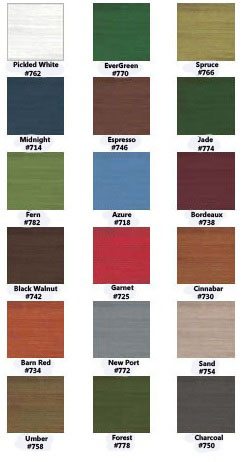 other charming bits will end up looking like stains or mistakes unless a transparent stain is used.
A light sanding of interior surfaces will provide a smooth base for even application. Even if you opt not to sand, a good wipe down of the wood surfaces will remove any dust or lingering sawdust from milling.
If you're looking for stains with color, PermaChink Systems offers some great hues in their Life Line Accents collection that can provide accents on the exterior, provide a pickled whitewash interior or make that guest bath burst with color. Adding color is just one more exciting option for modern log homes.