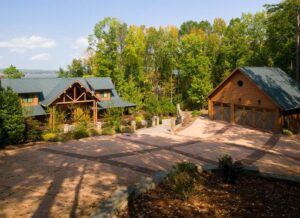 Contemplating a carriage house instead of an attached garage for your Katahdin Cedar Log Home? Not only do they offer a lot of potential for extra living and storage, carriage houses add a unique sensibility that is hard to measure.
Where did carriage houses originate?
Carriage houses were originally designed to house the horses and carriages used for transportation before the advent of the automobile. Architecturally, they featured tall ceilings, wide doorways for the carriages and animal access, as well as a second story for living or storage space. They were usually built in a similar style to the adjacent home, yet set a bit apart, because of the animals.
Add a Multifunction Building to Your Home
Carriage houses are typically built with two to three bays for vehicles and a second floor. The second floor can be left rough for extra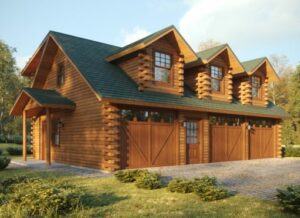 storage or fully finished to provide extra living space. In municipal building code "speak," carriage houses can be defined as Accessory Dwelling Units or ADUs. If your building lot is zoned to accommodate an ADU, this opens up a wealth of opportunities for the potential added living space.
Simpler Construction
At a square foot cost, carriage houses are less expensive to build than a traditional house, requiring only a slab on footings for foundation, and at least in the lower area, minimal finishing. If you think you may want to finish off the second floor as living space, you may want to consider some rough plumbing, wiring and other services within the carriage house. Make sure your electrician supplies the carriage house with enough power for the garage space operations as well as any living space usage.
Carve Out a Home Office
It's hard to say whether remote working will remain a trend that lasts, but your carriage house could be the site of a terrific home office area that doubles as guest space. A quiet refuge away from the family will boost your productivity and make working from home a pleasure.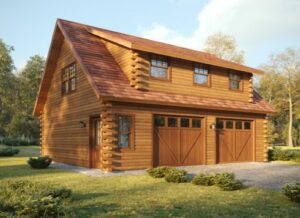 Space for Guests
If you entertain a lot, having an extra place for guests away from the main house is an ideal situation that the carriage house handles with ease. You'll need to have at least a ¾ bath for guests. You may want to include a small sink and counter set up so they can brew a cup of coffee in the morning.
Accessory Dwellings for Generations
ADUs are also a new way to think about what real estate brokers called '"in-law" apartments. These were small self-contained apartments to house a parent or other family member to keep them close to family, while providing privacy. Accessory dwellings may also house renters both long-term and holiday guests through services like AirBNB. To legally conform with local codes, you'll want to check with your town code enforcement officer about what's permitted for ADUs in your town.