Designing and building your dream log home can be a proud — and exciting!—time in your life. That's why we're inviting you to Eddie Montgomery's Steakhouse for our Katahdin Cedar Log Home Planning Seminar. These off-site seminars are just the thing for folks who can't make the trip to our Maine log home mill and manufacturing headquarters.

Event: Katahdin Cedar Log Home Planning Seminar

Location: Eddie Montgomery's Steakhouse
180 Lucky Man Way
Harrodsburg, KY 40330
Save the Date: Saturday, April 24, 2010
The seminar location is something we're pretty proud of— the Eddie Montgomery Steakhouse. This culinary and music destination is the realization of Eddie's dream "to build something to be proud of" and give back to the Kentucky neighbors who have supported him over the years. At the seminar, you'll be treated to a personal tour of the Steakhouse and experience the grand scale that Eddie first imagined. At 20,000 square feet, it's the largest structure we've built of the finest Northern White Cedar.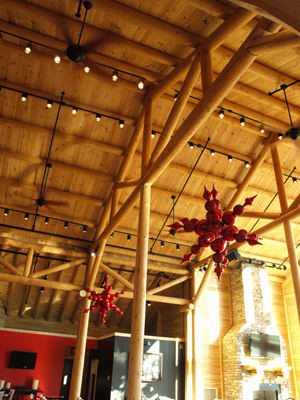 The half-day Home Buyers Seminar will cover a wide range of information about designing your log home, selecting sites, financing and other questions. You'll also learn about Katahdin's commitment to green practices, which made us the perfect match for Eddie's restaurant. After the seminar, we'll take you on a tour of the Steakhouse where you'll see the details of log home living on a grand scale. A hearty Steakhouse lunch will be served and you'll have plenty of time to meet with experts in your area.
Space is limited and admission is free to the seminar, so to reserve your place email Shannon or call 800-845-4533. Registration begins at 8:30 am. The seminar and tour will run from 9:00 am to 12:30 pm, with lunch and individual meetings immediately following.

Whether you're just starting your journey or are ready to sketch out your plans with one of our helpful representatives, these events gives you the chance to explore the details with people who know the best log homes in the country, Katahdin Cedar Log Homes.