Katahdin Forest Products, parent company of Katahdin Cedar Log Homes, has completed the purchase of SWP Industries' Ashland, Maine, saw mill for an undisclosed amount. The mill is configured to saw Northern White Cedar for log homes and will also provide sawn cedar for Katahdin's cedar fencing business.
According to David Gordon, president of Katahdin, the acquisition will nearly double the amount of rough lumber the company will be able to produce in-house for further production into homes and fencing. "This mill really allows us to maintain control over our raw commodity expenses, as we will cut in half our need to outsource sawn lumber product," he said. "This purchase really comes at an ideal time for us allowing Katahdin to meet increased demand for its products."
New Jobs Added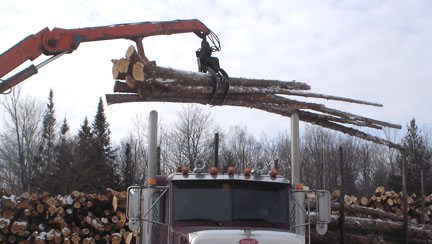 "In these difficult economic times, we're very pleased to be able to re-open the Ashland mill and add ten to twelve good jobs to the area," Gordon said. The mill currently has two employees on staff handling orders and will resume production in April 2009.
"The Ashland location is ideal for keeping our overhead low on sawn cedar because of its proximity to private lumber roads and cedar forests," Gordon said. A single log truck is limited to about 13 cords of round logs on state and federal highways, but private roads allow for about 45 cords of round wood on a single truck. "This provides a significant savings of about 50% on forest to mill trucking costs, which will allow us to maintain competitive pricing on all our products," he explained.
Triple the "Green" Lumber
The addition of the Ashland facility will have other direct benefits. "The Ashland mill location will triple Katahdin's access to FSC Certified Northern White Cedar grown in responsibly managed forests," according to Barry Ivey, vice president of log home operations. "In meeting current and future demand for environmentally-friendly or 'green' homes, this acquisition will further position Katahdin to respond to expanding market share," he added.
Additionally, the new mill will enable Katahdin's fencing division to increase production by 25-40% and take advantage of recent upgrades in the processing in the picket mill. "We've just upgraded our variable speed drives to provide a finer finish to the pickets and support boards at a faster rate," said Brian Holyoke, vice president of Katahdin's fencing division.