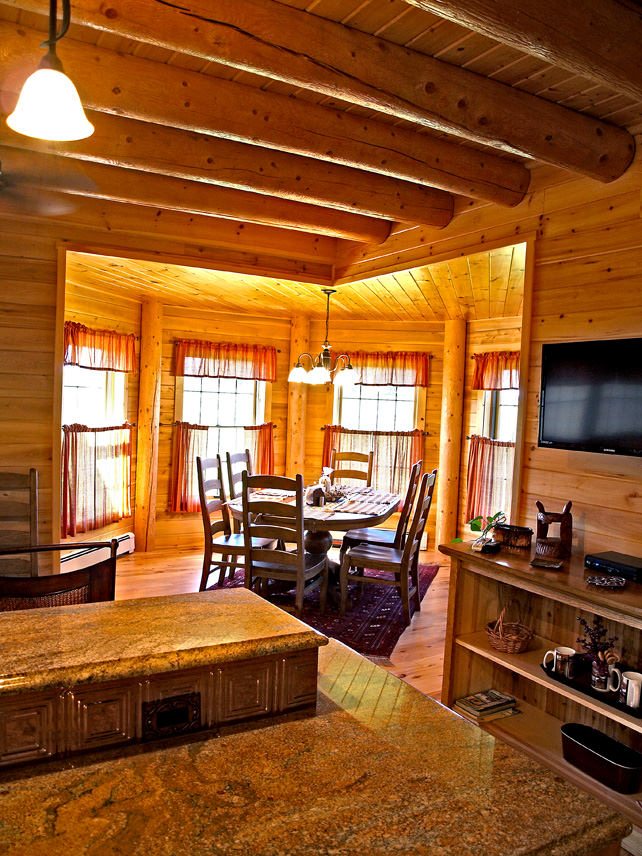 One of the most enjoyable parts of building a log home is the opportunity to make the design match your personal tastes. Katahdin offers many detail options for customization once you've identified the general plan you're working with. It's best to balance design choices with your budget in the overall, but there are customization options that are low cost and high impact. The best part is that many of these choices are included in the package price!
Log Style (included)— Select either a hand-peeled finish or smooth milled log depending on the style of your log home. The hand peeled (or "shaved") option works best in a more rustic-styled home. The D-shape profile provides the rounded log appearance on the exterior.
Log Size — Katahdin's standard log height is 6 inches and is available in a D-shaped exterior profile. Logs are available in 8- and 10-inch heights. The additional cost will vary for these larger logs, depending on the size of the home.
Corner Finishes
Butt and Pass (included) is the interlocking, mortise and tenon corner configuration where every other log butts squarely at the corner. This corner style is often referred to as "Notch and Pass."
Dovetail (additional charge) is where the logs are cut in a reverse v-notch "dovetail" and tightly fitted together like a piece of fine furniture. Log ends may extend or be trimmed close to the corner.
Saddle Notch (additional charge) interlaces each log at the corners.
Extended Logs (additional charge) is where the logs extend well beyond the corner (up to 40 inches). This effect offers an opportunity for onsite shaping with  graceful  architectural curve details that visually connects lower level to deck or main level to roofline.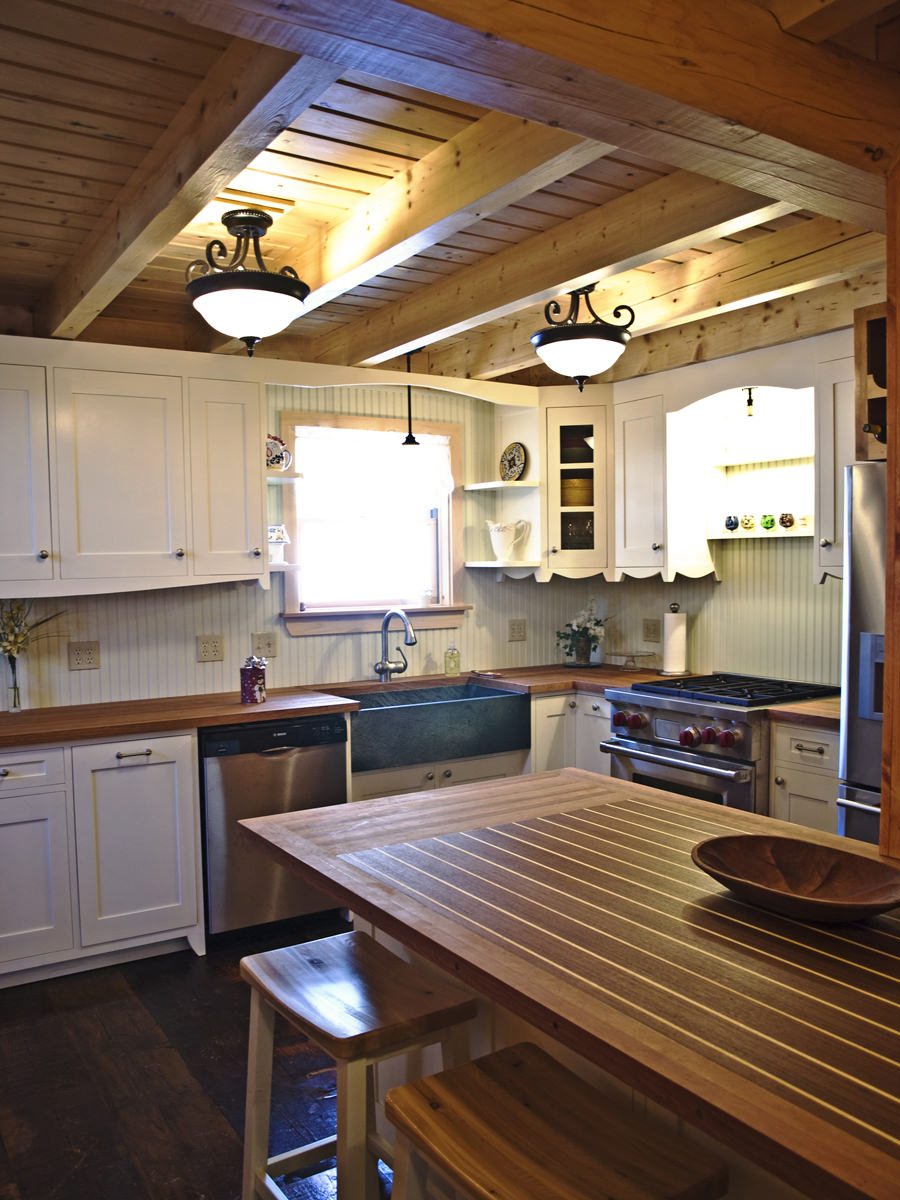 Purlins and Trusses
Round purlins and trusses are the distinctive difference to a Katahdin Cedar Log Home. Both round and square shapes are available (included) for these distinctive architectural features. Square purlin and truss shapes yield a more contemporary look, though mixing and matching—round purlins paired with squared ceiling joists in kitchens—is a popular treatment.
Interior Wall Finishes

Tongue and Groove Cedar (included in Energy Envelope System® packages) can be planed flat or for an additional charge, shaped with a curve to simulate rounded log shapes.
Mix of drywall and T&G cedar — Many homeowners select a mix of interior wall finishes for a more contemporary style. Note: drywall is not supplied in the package.
Roof Color — Our premium grade 30-year architectural shingles (included)come in a wide variety of colors and can add a dramatic look to the exterior of your Katahdin log home. Some homeowners opt for a metal roof, which would need to be contracted separately with a metal roofing company.
Stairs — Interior staircases can be traditional or custom with style options for railings, treads and balusters.
Stair Rails (included)— Can be milled round or square. One note to consider is that the round rails are larger (3-4 inches in diameter) than square rails (about 2 inches wide). The large round rails are more difficult to grasp; square rails may make a home safer to navigate when aging in place or in retirement.
Treads (included)—Spruce half-round treads are visually appealing when an exposed staircase is designed. In enclosed staircases, flat spruce planks are the best option.
Balusters—Round or flat balusters are standard. Many homeowners add custom designs to the balusters with finished tree branches, ironwork, stainless steel cables or other materials, which would have to be purchased separately by the homeowner.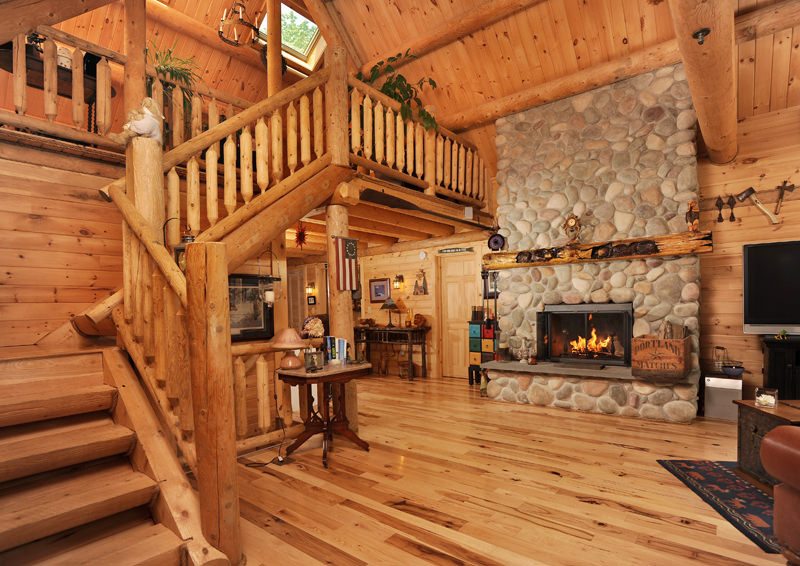 Energy Envelope System® — Katahdin's unique energy-saving Energy Envelope System is the key to saving money long-term. The insulation and interior finishing to provide an R-16 wall rating is free and included. This will meet energy efficiency codes in Zones 1-4. Additional insulation to meet local codes is an extra investment that is highly recommended, unless the log home is a seasonal second home or rustic camp. Achieving high insulation values of 30-R and above is easily scalable with EES. We can help identify the code requirements for your specific location.
Ceiling Height— Eight-foot, three-inch ceilings are the standard for non-cathedral ceilings in Katahdin homes, but 9- and 10-foot ceilings are not uncommon. Adding height means adding log rows, and depending on the house design, can be an expensive upgrade. One common location to add ceiling height is the basement so that certain plumbing and HVAC installations can be hidden above a dropped ceiling.
Windows and Doors — So many options are available within a standard package with Windsor Windows, Andersen Windows and Therma-Tru doors! Windsor Windows offer a broader palette of color options and Andersen Windows are well-recognized for their efficiency. Exterior doors with a variety of colors and finishes, casement or double-hung windows, windowpane "grills," and special shapes all offer options to customize.
Other options that may affect design:
Kitchen and Baths — Providing design requirements for spa tubs, kitchen islands, built-ins and other custom elements will allow the design team to include enough room to accommodate these features that are not included in the package.
Fireplaces and Wood Stoves — Depending on the design and materials used, the plans may need to include extra engineered support, as well as room for proper placement and outside ventilation.
Decks, Porches, and Gazebos — These, too, will require choices as to size, location, finish work and outside accessories such as screens and windows for enclosed porches. Decking rails and stairway access are included in packages. Custom sun porches that require screening or windows would come from an outside vendor.