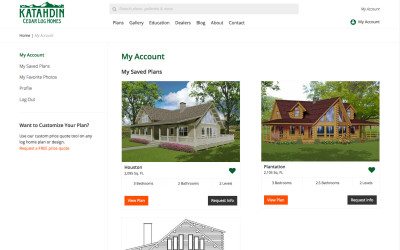 If you've been researching log home designs, you understand just how many features and styles are available. Many folks who plan to build develop their own scrapbooks with clips, photos and floor plans from many sources.
On our newly designed website, we've added a great feature j that will keep track of your favorite plans, so that you can refer back to them when you're closer to selecting the features you want in your Katahdin Cedar Log Home.
Easy to save your favorites!
Katahdin's My Account feature is so easy to use! First, create an account by simply creating a user name, typing in your email address and creating a unique password. Ticking the newsletter box also signs you up for the monthly newsletter, which offers tips and information about all aspects of the log home lifestyle.
When your account is registered, you'll be able to save your favorite plans from our huge selection. Searching for just the right plan is easy with our search tool that selects plans based on the square footage, number of levels, bedrooms, and baths. If you know a plan number, you can cut to the chase and type that in too.
Once the search parameters are entered, several tiles of Katahdin plans will appear that fit your search, with a small image of the plan and details like total square footage, bedrooms, baths, and levels. From these selections you can click on View Plan for more details. Depending on the plan, you'll see layouts, elevations and views from different angles. An overview description will offer additional information about the plan.
If you like what you see and want to save it, just click on the heart icon and the plan will be saved to your favorites list.
Saving your favorite Katahdin photos is just as simple to do via the Gallery Page. You can select photos of popular plans to see how the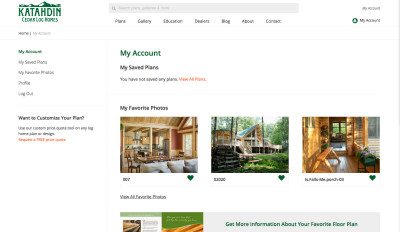 actual log home looks and feels inside and out. If you're exploring options for a specific type of room or feature, just click on the appropriate Room Type on the left and you'll see photos of dining rooms or kitchens to add to your personal gallery collection. Once you click on a particular gallery photo, you'll have the option of saving it to your favorites or sharing it with friends and family on social media.
Once you're ready to receive a price quote, open your "Favorites" and click on any "Request Info" button. The information form will walk you through the location and other parameters for your log home. You can also check your favorite plans to identify for which ones you'd like to see pricing.
We hope you'll sign up and save your favorites the next time you visit KatahdinCedarLogHomes.com!