One of the first things that is apparent to visitors to Katahdin's Oakfield mill is the sense of family and teamwork, genuinely expressed by the employees — from top to bottom. For many people at Katahdin, the mills and the company occupy a large part of their adult life. The company is celebrating its 40th anniversary, and many who still work here are celebrating as much as three decades of service. We recently spoke with some of the long-term employees about their time with Katahdin. (Pictured from left to right are: Shannon Hersey, Barry Ivey, Jim Lyons, Glenn Tarr, Sean LaFay, David Gordon, Wendell Hersey, Kevin Locke, and Bruce Hall. Patty Burpee was enjoying her vacation at the time the photo was taken.)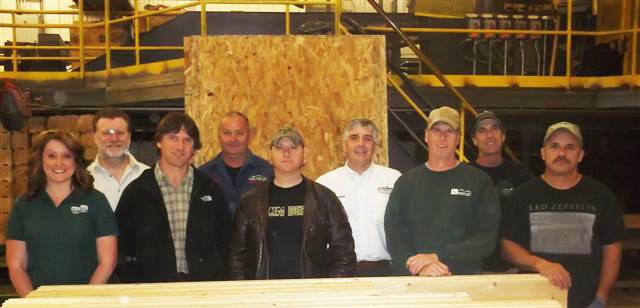 Bruce Hall manufactures the purlins, and makes the window and door bucks for each Katahdin log home. He started in 1977 with the physical side of the business in the early days— piling lumber in areas of the sawmill, peeling cedar logs, and grading logs for different cuts. There were only 6-7 people when he started; the company has since grown to employ as many as 150 at one time. Present numbers have been pared to about 100 with increased efficiencies in manufacturing. Unlike today's healthy network of dealers, there were only a handful of dealers when Bruce started. Since log homes were a relatively new modern construction technique, Bruce joined some of the traveling building crews, learning the ins and outs of log home construction. Today, he is the top go-to person for construction challenges.
Bruce allows that the secret of Katahdin's success is the "handful of guys who have done most of the jobs (house line, purlins, mill work), who are really picky about quality control," he said. "There's no shabby work here," he declared.
Kevin Locke is now the VP of Manufacturing, but he too started out at the bottom of the mill crew ladder— in 1981, his friend Bruce Hall "got me the job," he said. Kevin also started the fledgling Cedar Ideas mill, where he and his dog, Sheba, kept each other company for several winters. He worked to develop a new line of playground equipment and ended up running Cedar Ideas for 10 years, before he "crossed the road" and became the mill manager for house operations. His take on the close-knit group of long-termers is that they all "worked hard, lived hard, and played hard." When asked, Kevin offered up that Katahdin's secret to success was its diversity (of products) and the flexibility and adaptability of the whole company. "We never got too comfortable with any one thing. It was important to be able to change on the fly," when circumstances demanded it.
Jim Lyons, VP, Design & Engineering, is proud to note that he was employee #12 when he joined in 1982. He has watched the company grow through the tools he uses every day in the drafting and design department. When he started drafting plans for Katahdin Cedar Log Homes, he set up his drafting table in the mill office and was armed with a pencil and paper. He recalls using longhand to figure cuts for pre-cut logs, something that AutoCAD now sends automatically to the house line for implementation. In the early days, he explained, company founder Foster Gordon was a very hands-on manager, shifting from office tasks to running rip saws to loading trucks.
The components of those original bakers' dozen of employees — more than half still work at the mill— is a significant reason why Katahdin has enjoyed such a long run. "There are different ways to measure success," Jim said. "We make a good product. We were green before it was cool to be green. If someone has a good idea, we try to work a way to get there," he added. According to Jim, David Gordon has always focused on identifying the next thing the company needed to do to become successful. The company's involvement in the Extreme Makeover television show transformed the company into a national brand: "It really put us on the map."
Glenn Tarr is another employee who has been with the company for 30 years. He started at 14 years of age working part time during the summers peeling the purlins, and shaving the slab trim. He worked 15 years in the fencing side of Katahdin, working in the picket mill. His turning point came with the big planer arrived. "Once that big planer was added, we took a 90 degree turn and we went for the wind," he said. The changes that technology brought about were dramatic.
"Technology makes everything easier," Glenn noted. Glenn reflected his view of the company's secret to success, "from my point of view, it's been David Gordon and a tight-knit group of people we all rely on. Everybody pulled together when (founder) Foster Gordon died, and shifted to more technology to keep up with the times. Glenn also noted the broad camaraderie that his team has, and enjoys the good-natured joking throughout the workday.
Wendell Hersey, House Manufacturing Line Manager, will mark 28 years this month. His contribution marked another turning point with the company: the development of the house line. In his years, he's done "a little bit of everything," but his personal turning point was brainstorming ideas to get the houseline created and running the way the group had envisioned. The houseline enabled the company to cut logs for an average of two houses each day. In his view, Wendell believes that the secret to Katahdin's success is not being afraid of change and keeping up to date. He points to the growth in the network of dealers and how well everyone is able to communicate as contributing to the company's longevity.
Sean LeFay, Shop Supervisor at Cedar Ideas, passed his 20-year mark earlier this spring. He oversees the construction of cedar playground equipment, planter boxes and garden accessories that utilize the bits of cedar not suitable for homes or fencing. He enjoys the infrequent custom work that comes to his mill, including one planter project for a restaurant that specified a 40-inches wide, 30-inches tall, 7-foot long planter with concealed wheels. The project involved some ingenious inner structures to limit the amount of soil and weight in the units. Sean believes Katahdin's secret to success comes from many sources: "We have a ton of pride that goes into everything we make." He notes the company's resilience and innovation that has helped Katahdin to stay on top of the changing marketplace. He also notes that changes to make the company operate more safely is a contributing factor to success.
Barry Ivey, VP Log Home Operations, points to another turning point for the company in marketing the product nationally. He joined in 1995 to focus on growing the dealer network and actively exhibiting at log home shows nationwide. In 1997, Katahdin exhibited in its first national show in Atlanta, Ga. In growing the market presence, Barry was able to increase the dealer program from just a handful to the 70 active dealers today. He sees the secret to success in terms of people: "Katahdin has such a strong management team. Not only do we take care of our own people, but our customer service provides the same measure to our customers," he explained.
While the Extreme Makeover—Home Edition project elevated the awareness of log homes and Katahdin in particular, Barry felt it was an act of courage to take on the challenge and make it work. He also spoke about the company's consistent and evenhanded approach to debt management. He sees the past few years of increased energy efficiency demands and housing market drop as a turning point in the log home industry, but notes: "Our best days are ahead of us!"
Patty Burpee joined Katahdin in 1995 and now is the mill office assistant coordinator. She began her career in the mill yard office doing invoices and bookkeeping. The high point of her work at the mill was actually outside the office. When Katahdin participated in the Extreme Makeover— Home Edition television show in 2005, she worked with the show's interior decorator to select a handful of colors for interior rooms. "It really was fun!" she recalled. From the logging truck drivers on to management, she said Katahdin has "great people to work with." Her take on the secret to Katahdin's 40-year success is "making a quality product and the skillful way it's managed."
Shannon Hersey, Log Home Planning Specialist, started at Katahdin 13 years ago, working during summers in high school. She has worked in every mill except the post and rail mill, and recalls her time in the picket mill as her favorite. She filled in for one of the office staff who underwent surgery and has remained in the administration building ever since, most recently in sales. She says that working in the mills has made her job easier since she can speak with confidence about what goes into Katahdin homes. She also conducts mill tours in the absence of David Gordon. Shannon credits her boss, David Gordon as the secret to Katahdin's success: "He's really smart and makes smart business decisions," she said.
From battling it out on the softball diamond in the company's early days, to building and living in their own Katahdin Cedar Log Home, these "long-termers" feel a sense of loyalty and dedication to their work that is hard to beat. After speaking with these enthusiastic Katahdin team members, it's easy to see that it takes a multitude of factors to come together and keep a company on solid ground for 40 years.