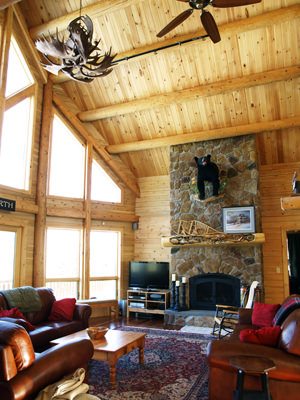 For many log home enthusiasts, their home is an extension of their outdoor lifestyle. Hunting and fishing tops the list of lots of people and the fruits of these activities often end up over the mantle in grand style. The rustic style found in many log homes seems to lend itself naturally to animal trophies and even non-hunters are picking up antique mounts for display in their log homes.
We spoke with John Janelli, vice president of the National Taxidermy Association for some insight in the care of animal mounts. He has been practicing his art for more than 40 years, getting his start as a boy of 15. Like many artists, he expressed a dedicated enthusiasm for his craft. "You can see that passion reflected in the work of various taxidermists. To capture the lifelike image of a living animal is something that is special."
The first point he made was that the animal hide and antlers are still organic materials, subject to light, humidity, dust, and insects. Hides expand and contract with heat and cold. Optimally, a mounted animal needs to be maintained in a stable environment, without too many extremes in temperature or humidity. The biggest enemy of animal mounts or trophies, he said, is ultraviolet light. "You really can see when an animal is mounted in a sunny room where the UV light has bleached out one side of the skin." He recommends that you treat a moose, deer or other animal trophy with the same care as an antique tapestry, painting or fine carpet.

Antique and Modern Animal Trophies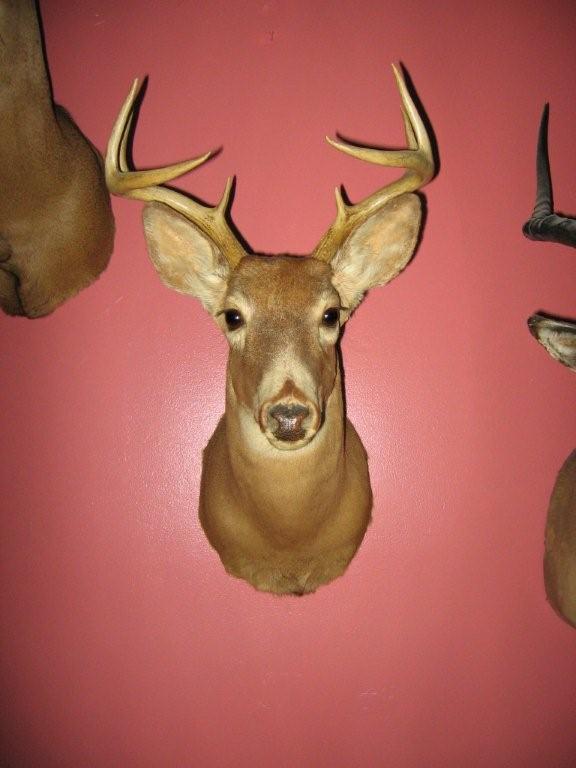 There are lots of opportunities to acquire a magnificent moose or 12-point buck in antique shops. If they have been kept in a good environment and have minor wear and tear, they can be restored by a professional taxidermist. Antique mounts used paper, cotton, wool, wire frames and other organic materials to preserve the skins and pose the trophy. Older mounts are more likely to be signed by their taxidemist, and those made by early artists are a find. (See the mount at right by James L. Clock.) These older methods are subject to more damage from insects and mistreatment, but are also considered works of art by the masters of the time.
Modern taxidermists use a wide array of acrylics, two-part epoxies, two-part sculpting clay and polyurethane foam to achieve a natural pose. They are less susceptible to damage because these materials are used. Modern mounts often have a state license or tag attached to verify that the animal was shot within state fish and game guidelines.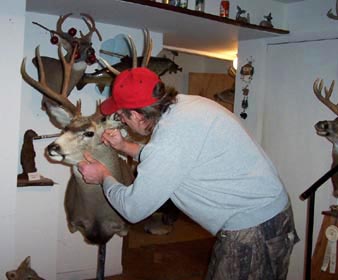 Simple Maintenance
The steps to clean and maintain an animal trophy are relatively simple. To clean the fur or hide, brush off dust with a soft cloth or brush. A blow dryer on low power and heat can be used to dislodge dust deeper in the fur. Always brush in the natural direction of the hide hair. For antlers, hoofs, claws and noses, a small amount of Pledge furniture polish will provide light protection and gloss. A cotton swab dipped in Windex glass cleaner can be used to carefully clean the glass eyes.
Try to keep animal mounts out of direct sunlight. If you do plan to display several trophies in a particular room, consider installing windows on south facing walls that block a maximum amount of UV light transmission. For instance, Andersen's 400 Series Low-E® SmartSun™ that allow 65% of visible light through while blocking 95% of harmful UV rays.
If you are entering into a phase in your life where you'll be doing more hunting, Janelli said, finding a good taxidermist may be as easy asasking other hunting friends who they use. The National Taxidermy Association is also a good source. Make sure you check out the taxidermist's examples of work and get a quote for the work done.