It's a common feature on some older homes in Maine: the entryway vestibule or storm hallway. It consists of a smaller area that keeps the outside air from infiltrating into the main part of the house by closing it off with doors. Typically, they were relatively small sized and featured a place to hang a coat or change from boots to shoes.
In a modern log home, these vestibules can serve a similar function. A vestibule can add a charming entry to the main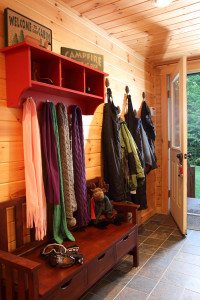 house, while confining the outside air to a smaller room. With the open style designs that are so popular in log homes today, a right-size vestibule can reduce drafts from the outdoors on cold winter nights or hot summer days.
Five Ways to Maximize a Vestibule
For consistent winter heat, consider installing radiant heat in the vestibule to warm feet and keep the air temperature constant in the winter. As a small area, the vestibule can warm up more quickly than larger areas serviced by radiant heat. Of course, this only makes sense if you have other radiant or hydronic heat zones in the home.
Get creative with the interior doors! Select some attractive French doors, which can allow light in to brighten the vestibule. Or, for a more rustic and functional approach install sliding barn-style doors to make your entrance even more dramatic.
If your home design will include a heat recovery exhaust system, consider including a vent in the vestibule to evacuate humidity, or outdoor smoke. Otherwise, a small bathroom sized recovery unit might be installed for the same effect.
Make the vestibule an easy transition spot by providing a bench for easy shoe and boot removal. Incorporate some accessible storage areas for footwear, hats and other outdoor items. And coat hooks or a small closet are always desirable near the entrance.
If your log home is in an area with cold winter weather, consider adding an electric towel warmer unit to warm up hats, shoes, and gloves while family warms up inside.
However you design your vestibule, you can be sure to reap rewards of improved efficiency and comfort all year round.