Log homes provide an excellent setting for fun and creative kids' rooms. With a rustic and playful approach, a child's room can be a well-designed haven for children as they grow.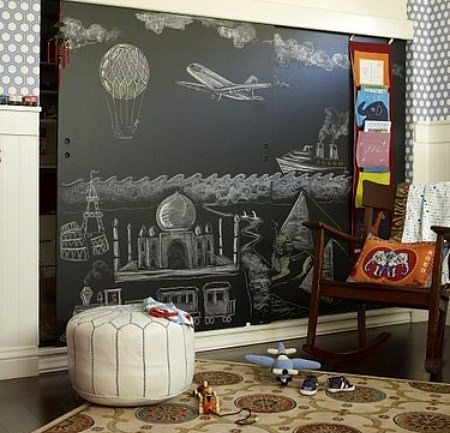 Storage Essentials — Make sure that the bedroom includes plenty of storage for toys, clothes and hobbies. Making the storage accessible and eye-level to little ones will make keeping things neat an easier task. Shelves or low built-ins that employ colorful bins can change seamlessly as the child's tastes and needs evolve over time.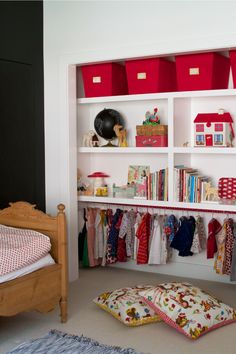 Multiple Levels— Add a sleeping loft or play platform up under the eaves. Railings can be installed in the form of dowels, tree branches, or wire rigging. Make sure the space between the rails meets code for safety.
Wall Treatment Options —Katahdin's Energy Envelope System enables other types of wall finishing on the interior of a log home. For kids' rooms, this means many other playful options can make up one or more walls within the room. From standard wallboard treated with chalkboard paint or removable wall decals, to galvanized metal sheets to use magnets to display photos and artwork, the possibilities are endless.
Closets — Keep in mind that as children grow so does the size and amount of clothing. A single-width closet that is perfect for a young child may be painfully small for a teenager. When planning a kid's room in a log home, consider including plenty of closet space that can be repurposed from toy storage to clothing as a child matures.
Expect Change — It may seem obvious, but worth stating. A child's fascination with princesses or Legos will fade to be replaced by other passions. Try to keep away from extremes with clean furnishings and simple patterns for fabrics. A pink and frilly room will delight a seven-year-old girl, but most likely horrify a teenager.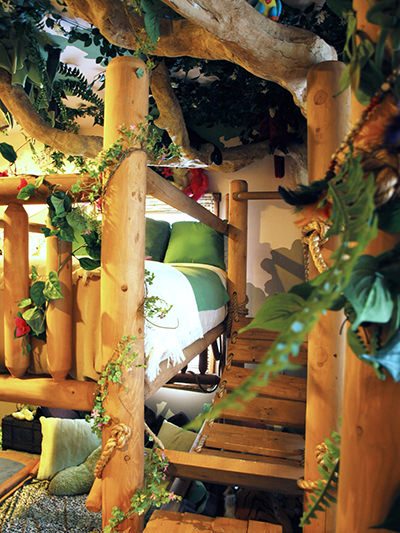 Graphics Solution — Using bold graphics and colors, rather than characters or themes can allow the child to adjust the décor of their room with ease and minimal expense. Using neutrals as a basis and refreshing accents like lamps, quilts, and rugs with coordinating colors is a great way to go.
Essential Lighting— Overhead lighting is a natural, but be sure to include desk lighting and reading lamps near the bed. Dimmer switches can provide minimal light for young ones, and provide the chance to transition to completely dark.
For more kids' room ideas, there are plenty of super websites such as Houzz and Pinterest, to get your creative juices flowing!