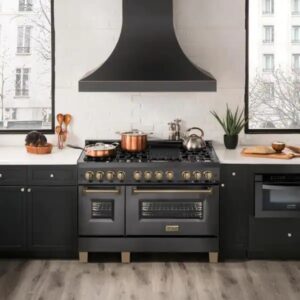 When you think about gold accents it may seem like a stretch to incorporate this trend in your Katahdin Cedar Log Home. Yet, gold is not so far away from brass accents, which are well used in log home kitchens. We've found some fixtures and accents that feature a touch of gold to add just the right amount of luxe to your log home kitchen.
Black and Gold Centerpiece
Black stainless appliances are the alternative to silvery stainless steel in today's kitchens. Adding gold accents takes on the dramatic statement with a ZLINE Autograph Edition dual fuel range. The gold fittings, including oven handle and range flame controls can be the starting piece for your black and gold appliances. Brass burners are another option with ZLINE to complete the black and gold motif. ZLINE refrigerators, dishwashers and microwaves are also available in fingerprin-resistant, black stainless to coordinate seamlessly with your exceptional ZLINE range.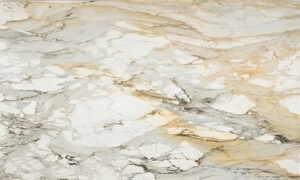 Countertops with a Touch of Gold
Quartz countertops are available in such a wide variety of colors and patterns, it's easy to coordinate with your black and gold color palette, with a delicate thread of sparkly gold running through the pattern. Try white Calacatta marble style with gold veins to contrast boldly with your darker appliances and cabinetry. Or opt for a darker combination of deep browns and gold to coordinate with cherry cabinets.
Mixing Finishes Creates Interesting Interplay
Manufacturers are mixing finishes for an exceptional design approach. Matte black with matte gold or brass fittings for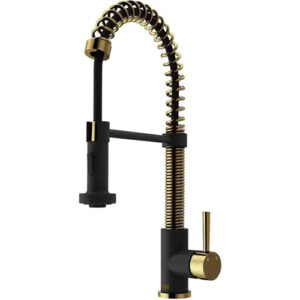 your kitchen sink pulldown faucet can become a unifying element to tie multiple finishes together in a harmonious combination. We love the Edison Single Handle Pull Down Kitchen Faucet in Matte Gold & Matte Black.
It's fun and easy to go for the gold in your Katahdin Cedar Log Home kitchen décor, and you'll love this classic look for years to come!