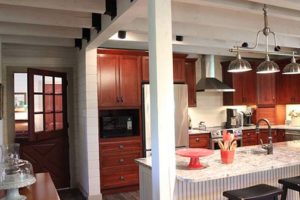 ** Updated 11/10/23**
Seems like kitchens everywhere are being designed with islands—both enormous and small. They're an excellent way to approach the open plan designs that are found in many Katahdin Cedar Log Homes. Kitchen islands help define open space visually by placing a sharp line between the great room and kitchen. Kitchen islands can also allow for fewer upper cabinets and more windows or open shelving. Finally, they can house appliances to free up counterspace and improve kitchen workflow.
Preparation or Cooking?
A good place to begin is to decide what functions your island will perform. If you're all about gathering family and guests to the kitchen to socialize and help prepare ingredients, then you may want to plan to have a sink installed in the island. Beginning with plumbing the sink, add plumbing for a dishwasher and perhaps a pet feeding & watering station. Seating around one side of the island can provide a casual eating space or homework zone. Making your island bilevel with countertop and café level seating is a good way to add interesting design.
If your idea is to centralize your cooking with a dramatic cooktop and statement exhaust hood, then added island seating may not be the best idea.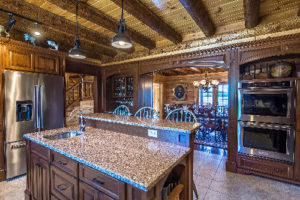 Instead, include lots of extra storage and consider an under-counter wine cooler for easy access to beverages. Including a smaller prep sink next to the cook top may be a practical addition.
Sizing and Proportion
The average size of a kitchen island is 80 inches by 40 inches. For seating, allow 24 inches per person; to seat four along one edge you'll need 96 inches or 8 feet. Underneath, your depth should allow for standard cabinets and appliances 25-30 inches, and perhaps a shallower depth storage on the back side. The ideal space between islands and cabinets is about 40 inches. This allows for tilt out stove and dishwasher doors and won't feel cramped. Allowing for more space is possible in larger kitchen areas, but if you stretch beyond 60 inches, the island will seem unmoored and disconnected to the rest of the kitchen.
Consider your Countertop Choice
Most slabs for counter surfaces come in standard sizes of 6 x 10 feet. Oversized slabs of granite or quartz may be considerably more as they are more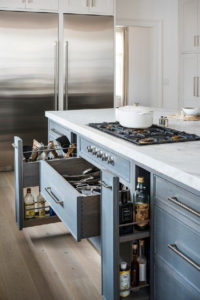 challenging to work with, move and install. If you're in love with your oversized island but don't want to break the bank, consider a mixed surface solution: a smaller marble surface for baking or butcherblock wood surface. Found the perfect, dramatic granite slab for your island? Don't stress matching the remaining countertops— just select a contrasting color that won't overshadow your centerpiece!
Add Great Island Features
Islands offer the chance to free up counter space by installing an under-counter drawer microwave. If your kitchen features a cook top and wall ovens, a warming drawer will make entertaining a breeze! If your island has a pet feeding station, a pull-out pet food storage bin can centralize all your fur friend's needs.