Ever wish for an extra set of hands in the kitchen? GE Appliances has teamed up with Amazon's Alexa voice controls to allow you to control your refrigerator, oven, and dishwasher with voice commands. The appliances are part of GE's Monogram line equipped with GE's Geneva Skill software. Other GE appliances that offer hands-free operation include their washing machines, clothes dryers, GeoSpring Heat Pump Water heater and GE room air conditioner.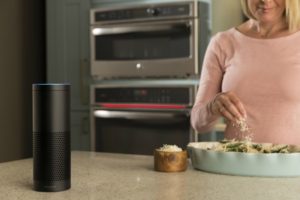 How Does It Work?
Your home may already have one of the voice-controlled Amazon Alexa products, which include Amazon Echo, Echo Tap and Echo Dot. With these devices, homeowners are able to order products, ask questions, add appointments to calendars, and otherwise interact with internet services by using voice controls. You may recall familiar commercials that show actors ordering flowers, asking questions about animals, and scheduling reminders using only their voices to control the activity.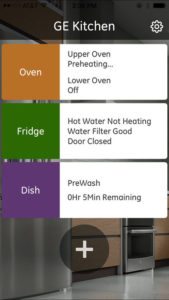 GE's Appliance Geneva Skill takes voice commands via the Alexa platform and tells the GE Monogram appliance to complete the command. To use the Geneva Skill programming, you'll need to connect one or more Monogram appliances to your home wi-fi.
Setting Up the Appliances
GE offers three smartphone apps to operate their Monogram Appliance series: Kitchen, Laundry and Comfort apps. Once downloaded, the Kitchen app will walk you through setting up your refrigerator, stove and dishwasher. Connecting to the voice command Alexa is just an additional step with the Alexa program. If you run into trouble there are plenty of help sites to walk you through!

Alexa Hands-free Capabilities
Once your appliances are set up, the commands can simplify your kitchen workflow. With the Alexa feature, you can turn on your oven to preheat, or turn it off. You can schedule a heated cup of water for tea from your refrigerator. Your refrigerator can alert you when the water filter needs changing. Alexa can even automatically order dishwasher soap pods from Amazon based on the usage rates.
Other GE Monogram Appliances that are wi-fi connected and Alexa responsive include:
Clothes washer and dryer serviced by the GE Laundry App
Water heater and room air conditioners serviced by the GE Comfort App.