The best way to maximize your enjoyment of a lakeside log home is to install a dock to facilitate swimming and boating activities. Modern docks have become relatively easy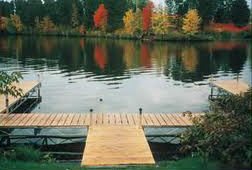 for the home handyperson to design and install. Here's a quick rundown of the basics:
Check local regulations. A quick stop into the local town hall can clear up questions about your ability to add a dock to your lakefront. Check to see if there are any specific permits required for installing a dock. Much will depend on the type of dock you plan to have: permanent or temporary. The type of zoning along your shoreline may also affect your ability to install a dock. If the shoreline is a designated protected area, you may need to build an elevated walkway to access your lakeside dock to avoid disturbing conservation lands. A permit from the state department of environmental protection may also be required. Also, depending on the scope of your dock plans you may need to obtain a building permit.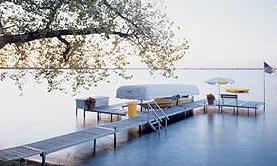 Wooden or aluminum? While wooden docks certainly have their appeal, for low maintenance and lighter weight, you may want to opt for an aluminum dock. One company, Shoremaster, offers a new aluminum dock system featuring powdercoat finish with a lifelike woodgrain. The Shoremaster website offers a "Design Your Dock" tool that can help you to configure the dock components to accommodate budget, uses and space.  Featured accessories include standing personal watercraft lifts, floats, ladders, and canopies, among others.
Prepare the site. Assess the soil immediately adjacent to the shoreline. Depending on its composition, you may need to pour a concrete footing to anchor the shoreside end of your dock. You may also need to include stairs or a walkway to access the dock area. If your dock is temporary and will be removed in the off season, you may want to consider a dedicated storage space out of the elements, or at minimum a flat solid area a short distance away from the dock area. That way the process of dismantling and re-assembling the dock at either end of the season is not too difficult.
Keep an eye on safety. Once your dock is in, don't forget the safety aspects. Make sure there's plenty of cleats and tie-off points to secure watercraft. A life ring or sling attached to the dock with a long length of rope provides easy access in an emergency. Little ones should be fitted with appropriately sized life vests in case of a fall off the dock. Keep leaf and pine needle debris swept off so that the surface doesn't become slippery. Your local forestry or game warden may also have some insights to make your dock a safe and comfortable place to enjoy the lake.