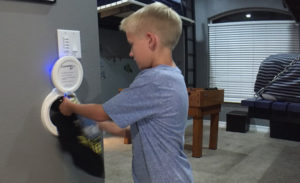 If you're tired of lugging laundry baskets up and down the stairs and picking up after the kids, then the Laundry Jet powered laundry chute is one feature to consider adding to your new Katahdin Cedar Log Home. Using a vacuum air powered network of pipes connected to convenient ports, wherever you want, the Laundry Jet makes collecting laundry a breeze.
The Source of Innovation
The Laundry Jet was the brainchild of inventor Drew Henry. Building off technology similar to a whole house vacuum cleaning system, Laundry Jet first made a test run in Henry's Northern California home. With 4,000 square feet on a single level, Henry was looking for ways to simplify the laundry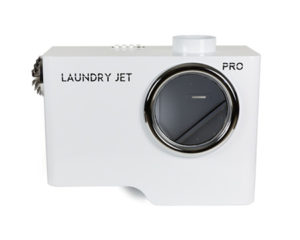 demands of his busy household. Using the vacuum system as a guide, he developed a machine and pipe configuration that had enough air draw to handle most daily laundry items. On a visit to the home, his long term business partner and marketer Graeme Roberts noted the experimental system helped to keep the kids' rooms neat, because jetting your dirty gym clothes was suddenly fun! After little discussion, they decided to take it to market and Laundry Jet was born.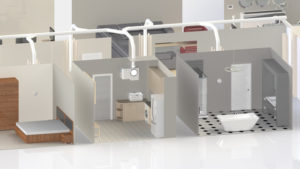 How Does Laundry Jet Work?
The Laundry Jet air machine is connected to a main 6-inch pipe. Up to eight port branches feed into the main pipe that draws the clothing items into the laundry area. The main pipe can be located in attic space, accommodated via set-aside chases or in the floor system. Ports connecting to the Laundry Jet are located in bedrooms, closets or anywhere a laundry basket might have been placed. Each port can be located up to 200 feet from the laundry. To jet clothing, bedding or even damp towels to the laundry room, just open the port. Once the port is opened, it activates the air machine, which creates a vacuum to suck the laundry to its final destination. When finished, just walk away and the port closes automatically. The air machine will stop operating once the pre-set time has allowed the laundry to be delivered, usually a maximum of 17 seconds.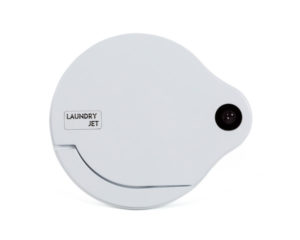 Designed with Family Safety in Mind
Old-fashioned gravity-fed laundry chutes fell out of favor because of the safety hazards for small children. The Laundry Jet uses 6-inch diameter plastic tubing with a gentle air suction strong enough to transport laundry but that is safe for all ages. Each port is installed at a recommended 48" height on the wall. Just beyond each port a 90 degree elbow will keep high density toys from being sucked through. Other lighter items will be delivered to the laundry room for retrieval. The Laundry Jet can be easily cleaned by sending 6 inch foam ball wrapped with a cleaning towelette through the system from each port. If something does get stuck in the pipes, a common plumbing snake can clear out the item.
Touch Free Options
Newly launched this January is the upgraded Wave Port, which rotates and slides open to activate the Laundry Jet with a motion sensor. The Wave Port streamlines the original port which flipped up manually to open and activate. The low-profile Wave Port is fashioned from metal and can be custom powder-coated to match any décor for an additional charge.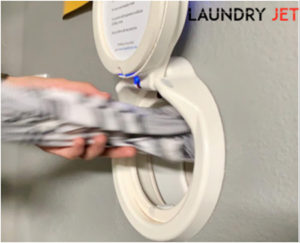 Assists with Limited Mobility
The Laundry Jet system is a great improvement for homeowners who are applying universal design and aging in place options to their new log home. Being able to continue to do daily laundry chores without having to carry laundry baskets up and down stairs can make a big difference! The ports can be installed at a lower height to accommodate a wheelchair. In fact, Laundry Jet Systems are under consideration for use in assisted living facilities to free up space and labor for the residents' laundry.
Elevating the Laundry to Fun!
While most opt for solid colored white pipes, some Laundry Jet customers use a clear plastic tubing for some sections of the system so the full whoosh effect can be seen when in use. Other homeowners have concealed the pipes within timbers or beams where clearance is not available. With a little planning Laundry Jet can be as accessible or as hidden as desired.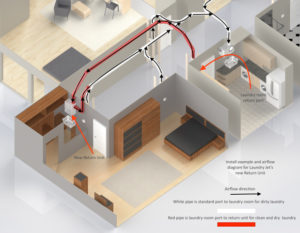 Sending Clean Laundry on a Return Trip
Another optional feature is The Laundry Return Unit, a single return loop to one port location that can deliver a full dryer load back upstairs for folding or ironing. That system utilizes the same air machine but intercepts the clothes on the return path.
The Laundry Jet system ranges in price from $2,400 to $15,000 depending on the size and number of ports. Pricing includes an estimate for pipe but does not include installation or delivery. Installation can take from 1-3 days depending on the house. Free quotes are available within 1-3 days using their online quote request form. If you'd like to add a Laundry Jet to your Katahdin Cedar Log Home custom design, be sure to alert your dealer and the design team to ensure compatibility.