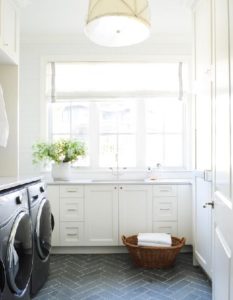 For busy families, a well-designed laundry room can make a new Katahdin Cedar Log Home fire on all cylinders. The laundry room location is often one of the first decisions homebuyers make when tackling design details. Situating the laundry room adjacent to bedrooms, on the main level or as part of a mudroom can make doing the laundry easier and more efficient. The elements that are required for a laundry room include plumbing, electrical, gas line, and access to an exterior wall for venting.
Adjust for Heat and Noise
Dryers can produce a lot of heat, even when they're properly vented. Consider including a bath ventilation fan in the laundry room to exhaust excess heat, especially in the summer months when the air conditioning is operating. Though it's uncommon to insulate interior walls, putting some extra soundproofing in the laundry room walls is an inexpensive upgrade that can make a difference when the laundry is near a bedroom!
Main Attraction: New Washer & Dryer Options
The appliances you select for your laundry room can add extra function and efficiency for both energy and water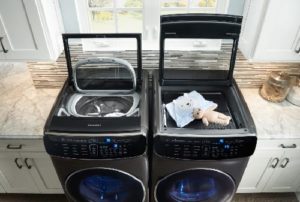 consumption. Selecting a washer-dryer combo is a little like buying a car— selecting features that will be useful, as well as considerations for capacity, dimensions, and functionality. Here are two standouts from the most recent Consumer Electronics Show (CES) to add to the mix:
Samsung FlexWash™ 9900 —This wi-fi enabled, smart washer-dryer pair provide a total of 6.9 cubic feet of washing capacity with the flexibility of two separate washing and drying compartments. The FlexWash front load bin holds 5.8 cubic feet, with a top-loading compartment of 1.1 cubic ft. Each can be configured for different cycles and can run simultaneously, The FlexWash offers a "super speed" to cycle through loads quickly. The Flex Dryer has multi-steam technology and is Energy Star Certified. The upper dryer is designed to gently flat-dry sweaters and delicates.
LG ThinQ Laundry— LG's laundry products featuring ThinQ technology range from large capacity turbo washers and steam dryers. For families looking for all-in-one efficiency, LG's Signature Smart Washer/Dryer Combo uses inverter heat pump drying to take your laundry from start to finish. The ThinQ product line offers a smartphone app that alerts when the laundry is done and can operate each unit remotely.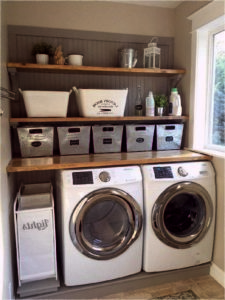 Fold It Up!
Once the laundry is done, you'll need a space to sort and fold. The best option is an adjacent cabinet or a flat surface to fold the completed laundry neatly. Front-load washers and dryers can offer a good flat surface for sorting and folding, but often the appliance tops are awkwardly high for most people to use. If space is tight, a drop-down folding table can provide horizontal space. If your laundry system is surrounded by cabinetry, a countertop space can facilitate folding. A simple floating shelf over sorting bins and detergent supplies also can perform double duty for folding.
Keep It Within Reach
With the depth of modern, oversized washer-dryer combos, the wall space above and behind the appliances can be rendered unusable if not configured properly. Make sure shelving is reachable from the front of the machines. Extending clothing racks and shelves to be within easy reach will make these potential storage spaces easier to utilize.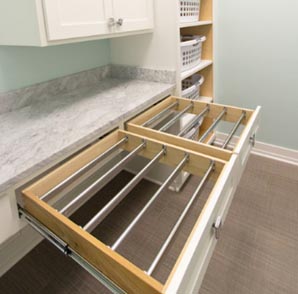 Tilt Out, Pull Out & Fold Down
We found plenty of great laundry room solutions by searching the web. One option for laundry bins included a sorting system of three baskets for lights, darks and delicates. Another involves a nifty tilting shelf that extends over the washer and dryer to toss in dirty clothes and tip them forward to empty. Looking for space for air drying? Convert a cabinet drawer into a pull-out drying unit or install a spindle on the wall that can fan out for drying then fold away. If your crew is still in need of ironing, a fold-out ironing board that drops down from a cabinet to counter height is always a timesaving addition. Make sure the ironing board cabinet has enough space to store the iron, and any starch or spray bottles. Include an electrical outlet inside the cabinet where the ironing board folds down for maximum efficiency!