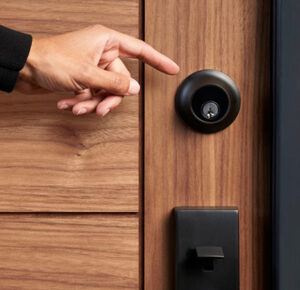 If you're looking for a smart lock system for your Katahdin Cedar Log Home that is smart, small and well designed, check out the new Level smart lock systems. Level offers several different configurations to update your exterior door security. These normal looking locks and bolts hide the technology inside, eliminating the need for bulky keypads and touchscreens.
Level Lock
The basic level lock operates with a smart phone app, voice control or auto lock and unlock features.  This lock also has traditional metal keys to open the lock. Upgraded versions include:
Level Lock – Touch Edition
The Level Lock Touch edition uses Bluetooth connectivity to identify when you and your smart device have entered a geofence boundary. Once it connects with your phone, a simple touch on the lock will automatically unlock the door. Once you're in the zone, the door is shut off.
Level Lock + with Apple Home Keys
Adds the Apple Home Key feature to the Touch edition which allows you to unlock with a tap to your iPhone or Apple Watch.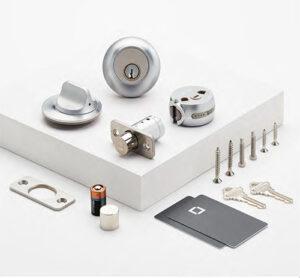 Level Bolt
Level's Bolt option allows you to update your existing deadbolt, converting it to a smart lock. This allows you to see who enters and when, as well as providing event keycodes and keypad operation. The website offers a Compatibility Guide to walk you through whether the Level bolt can work with your current deadbolt.
Voice Controls
If your home is connected via Apple HomeKit, voice controls can lock or unlock the doors.
Color Compatibility
Level locks and bolts are available in four finishes: brass, nickel, silver and matte black. The company also offers sets with matching levers to create a well-designed access pair.