Hope for the best, plan for the worst is how we operate at Katahdin Cedar Log Homes. As of this writing, the two planned Log Home Shows in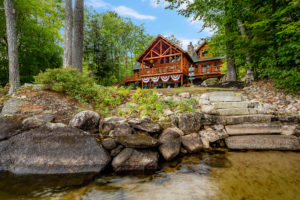 Roanoke Va., and Lake George, N.Y., will be postponed until this fall season.
With so many large events being postponed or canceled, we hope you'll keep current on log home show cancellations and postponements on our Events page.
Logapalooza Update
We were also about to make an announcement about an upcoming Logapalooza event in Maine in May. However, with COVID-19 and the CDC's recommendation that no events of 50 people or more be held for 8 weeks, we've made the difficult but necessary decision to postpone. We hope to be able to reschedule this event when it is safe to do so.
Our famous Logapalooza events have drawn attendees from near and far to spend the weekend learning about Katahdin's dedication to quality and energy efficiency. These events feature tours of multiple beautiful log homes that will bring different styles and ideas to life. We've been finalizing the dates and lining up multiple log homes to tour as part of our next Logapalooza event. We'll keep you posted when this is rescheduled.
Experience Log Homes Virtually
If you're unable to visit our beautiful Katahdin booth or open house event in the near future, the next best thing is to visit Katahdin's Showcase Homes page where you'll get to "virtual tour" some of our favorite designs. Stay tuned for more event updates here.