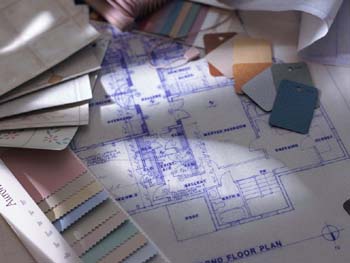 Looking at a set of floor plans, it's easy to start to move walls, reconfigure rooms or add extra feet to the width of a room.  But what seems like just a small change on paper can often multiply into a costly change that may blow your budget out of the water.
Conversely, subtracting an extra dormer or re-orienting the home on the land may allow you to achieve your goals without costing you extra. It's all a balancing act, which is why it's important to ask the right questions and consider the possibilities before making small or large changes.
Katahdin's Lany Sherman works every day with our customers to help them finalize plans for their dream home.  Yet sometimes there are additions or changes that can transform a simple set of plans into a complicated and costly prospect. "If you have a chance to meet with other log home owners or friends who have built their own homes," Lany said, "You might learn a lot when you ask the question, 'What would you do differently?'" He has some tips for home buyers who are in the planning and design phases of their log home.
Consider the Layers—Most log homes are constructed like a layer cake with a basement, ground floor and a possible second floor or loft. Make sure you consider all three dimensions of a house plan, and take a look at the impact a change might have on all elevations or views of your home.
Maintain Primary Lines of Support—To maintain the structural integrity of your home you'll want to ensure that the outlines of the box or boxes that comprise the floor plan are not compromised. Make sure that if you are considering removing a wall that the structure above will not be affected.

Masonry Fireplaces in Line—Fireplaces and wood stoves with their required chimney work, as well as plumbing chases, need to travel vertically in a straight line. Stairwells too must have continuity from one floor to the next and allow for proper width, rise and run. Tucking in a small bath in an unused corner may seem like a smart idea until you examine the pipes and drainage associated with a bathroom in an out of the way location.
Mechanicals and appliances— Where the rooms that house furnaces, water heaters and boilers are located can have an impact on a budget.  Consider the distance for venting, connecting to fixtures and centralizing your mechanicals to maximize the efficiency and infrastructure.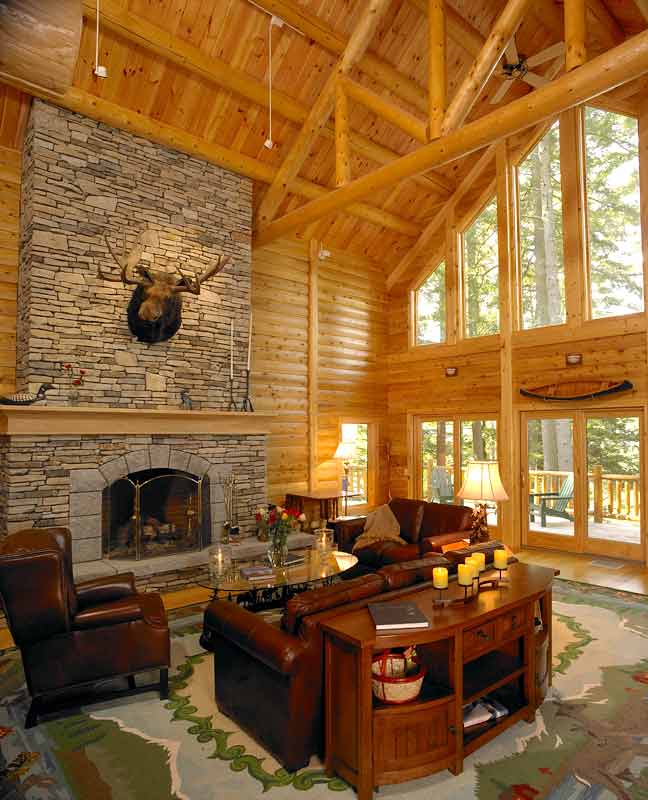 Don't forget your furnishings!— When discussing ideas for your floor plans, it's a good idea to have shapes to represent large pieces of furniture, appliances and other furnishings to arrange in relationship to windows, doors, traffic patterns and other elements in your log home. If you have a large number of paintings or wall art, tall cabinets or sideboards, you will need to design for areas to support these elements. Sometimes adding a partition wall or rearranging or eliminating extra windows can free up some wall space to accommodate your furnishings. If you have designed an open floor plan, you'll want to include some electrical convenience outlets in the floor to electrify lamps and other appliances safely in a central furniture grouping. The location of wall stiffeners in long walls may also affect your ability to place furniture directly against a wall, as they can project 3-4 inches from the surface of the wall. If you plan on baseboard heating, the location of the baseboard units can also affect placement of certain furnishings.
Compare exterior and interior— Adding a window may look like a perfectly good idea on the exterior, but on the interior the window may end up in a closet or in an awkward place. Likewise, a window in just the right spot in an interior room may throw the exterior out of balance. Dormers and extra gables may add exterior appeal but may add cost to the design without adding much interior benefit.
Be prepared to compromise— An additional window or changing the location of the fireplace away from an exterior wall may be the best solution for your home's design.  Your Katahdin Dealer has a lot of experience, and with the added expertise of our in-house design team, we can resolve most design challenges in an attractive and efficient way.
Working with your Katahdin Dealer and the Design Team, you'll be able to develop  your dream home with positive results to enjoy for a long time.