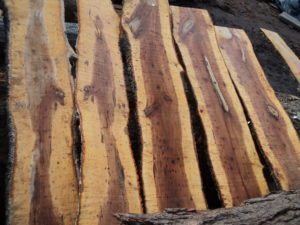 We know how much our customers love the look and feel of quality wood in their log homes. One spectacular way to add a unique wood feature is to explore so-called "live edge" wood slabs. These slabs of wood are created from larger, old growth species and feature the natural, uneven edge marked by the bark of the trunk. Designers are incorporating these beauties into new homes of all styles, and we think they offer a great look for log homes as well.
Sourcing Live Edge Slabs
These pieces of wood range from massive to more manageable, and each is as unique as the tree that formed it. Depending on where and how you plan to use it, you may end up paying a premium to get just the right piece. However, live edge slabs do add a lot of drama to a home! One place to start is the local lumberyard or sawmill. If they don't offer these oversized pieces, they should be able to identify a nearby specialist who may have what you're looking for.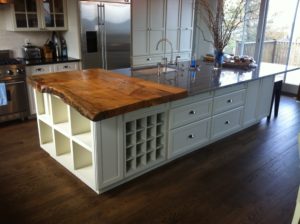 Some of the features noted in this type of wood include burls, birds eye and spalted, all of which are technically flaws but can create beautiful and interesting designs in the wood. Even pieces that have been struck by lightning have a unique cast to them and sure to become conversation pieces in your log home.
Where Can Live Edge Slabs Be Used?
Live edge slabs can be incorporated into your log home interior design in several ways. One great option is to use a slab as a mantelpiece over a fireplace or wood stove. This might incorporate a thicker slab that features a rugged rough edge or unique features. YOu may also consider some "floating" shelves on an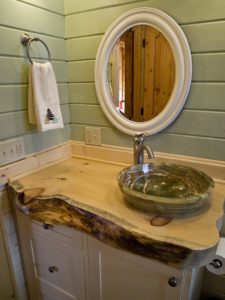 entryway wall to display art or collectibles.
Countertops are another great space to incorporate a live edge slab. In the kitchen, using a beautiful, glossy slab on the center island eating area is a great way to showcase this feature. Live edge wood slabs can also be a delightful touch in a master or guest bath in combination with a bowl style sink.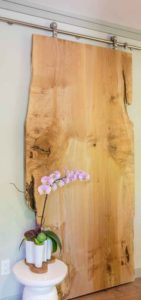 One of the most innovative ways to use live edge slabs is as a sliding door panel using barn door hardware. This would likely require a fairly large specimen of slab, so careful consideration should include the dimensions of the doorway as well as the weight of the slab. The sliding door hardware may need special reinforcement in the adjacent wall.
We located several online resources for live edge slab wood:
Boards & Beams Wood Products This New Jersey–based operation has a large stock and can mill widths up to 48 inches.
Big Wood Slabs This Michigan-based operation offers domestic and imported exotic woods.
Bark House This family-owned retailer offers wood products with certified sustainable practices, with 95% of raw materials harvested within 50 miles of their North Carolina mill.
Longleaf Lumber specializes in reclaimed and salvaged wood, including redwood slabs from their Berwick, Maine, mill and Cambridge Mass. showroom