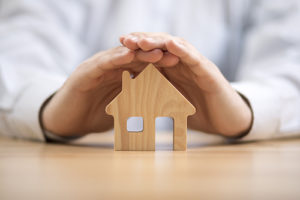 Insurance is one step that may be forgotten in the excitement of planning your Katahdin Cedar Log Home. Most homeowners are familiar with standard homeowner's insurance, but when it comes to new construction there are several factors to keep in mind.
Who Purchases Coverage?
Your contractor will most likely have a builder's risk policy in place for your construction project. Reviewing the coverage and limitations with your contractor should happen when reviewing your construction contract. Your contractor should be able to provide proof of insurance before beginning. Understanding your potential liability can help to structure any additional construction insurance you may need. If you currently have homeowner's insurance on your dwelling, contact your agent to review extending coverage to the new construction.
Who Owns the Land?
If you own the land where your log home is being built, you'll want to purchase premises liability which covers injury or damages that may occur on your land. If your friend slips and falls while you're showing her the building site, premises liability will protect you.
Building Materials Coverage
This protection will cover your Katahdin Cedar Log Home package as well as other lumber or materials not yet installed in the new home in the event of theft or loss due to weather, fire, or other risks. Endorsements may also cover materials in transit to the construction site. If your Contractor still owns the land, coverage will fall under his or her policy.
Structure Coverage
This insurance protects you from theft or damage to the home itself and anything already installed in the home, which includes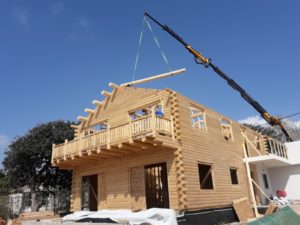 protection from theft, vandalism, fire, and more. Some factors that will affect your insurance rates include:
New construction vs. pre-existing homes: Insurance companies tend to favor new construction, so they may be less expensive to insure than your present residence.
Types of construction: Insurance rates are determined by age of the structure and the type of construction, the vulnerability to damage, and the cost to repair or rebuild from that damage. For example, a metal roof may factor a lower rate than an architectural shingle roof.
Location: Homeowners insurance rates can vary based on region, neighborhood, and proximity to certain services like fire services.
Other structures: Adding swimming pools and hot tubs to your home may increase the cost of an insurance policy. This is mainly due to liability coverage.
Credit and claim history: Construction insurance agencies look at credit history and whether you've had previous homeowner claims.
Year–round or vacation home: Vacation homes may trigger higher premiums because they are unoccupied for long stretches of time, requiring more maintenance.
Adding proper insurance coverage to your new Katahdin Cedar Log Home will help protect you from loss and liability while you're under construction. It may also be helpful to work with a homeowners' insurance company that is familiar with insuring log homes. Your Katahdin Dealer may be able to identify several insurance companies in your area that have insured past log home builds.