So often we see log home owners who have invested so much time in developing their log home, they forget they'll need to install some sort of landscaping to help their new home shine. Even the simplest of log home landscaping plans need a budget and some planning to be successful. Here are some tips for landscape planning you'll want to include in your log home budget.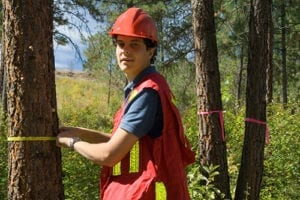 Utilize Your Land's Mature Trees
When reviewing your land before building, it's a smart move to contact an arborist to direct any cutting and clearing to maximize native trees that are already established on your land. The arborist will help you identify trees that will mature and provide shade for years, as well as trees whose configuration or lifespan may limit their viability going forward.
Hire a Pro to Map Out a Plan
Like anything that's an important component to your log home landscaping, it takes some planning to make it happen! Most new home owners make the most of hiring a professional landscaper to design a plan for their home's setting.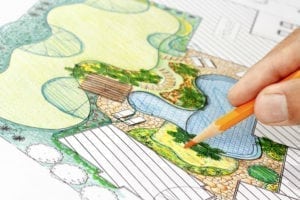 What's your vision?
Before meeting with a landscape professional, have a discussion about how you envision your new log home's outside areas will be used. How will family members and guests use the yard? Will there be a deck, a patio, water features, a pool? If you're adjacent to a lake, how will you reach the shoreline? Do you want low maintenance, low water, or no chemical? Does your vision include a large, traditional lawn or a sweeping field with native grasses? All these options have a cost attached and identifying which ones are a priority can help to form your landscaping plans.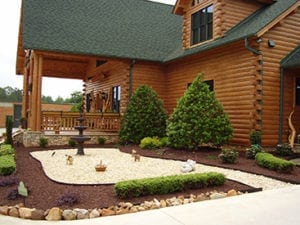 New Log Home, New Landscaping
With your new log home, you may wish to incorporate some innovations, including energy efficient LED lighting or hardscaping for pathways, terraces and stone walls. You may opt to integrate landscaping to help save energy inside your home by planting fruit trees for summer cooling or fast-growing conifers to provide a winter windbreak. You may decide to phase in your log home landscaping, starting with areas immediately adjacent to your  home and expanding outward as time and budget allows. Whatever you decide, mapping out a log home landscaping plan and budget will help to refine your ideas and get the beautiful setting for your new Katahdin Cedar Log Home.