If you plan a swimming pool or a lakeside retreat for your Katahdin Cedar Log Home, you may want to consider adding an accessory building to enhance family fun. Pool houses can be small and simple, or expansive, depending on your needs. Essentially, pool or lake houses provide a buffer for water activities that can keep your log home cleaner and less cluttered. Kids of all ages enjoy the separate-ness of a pool house and can spend hours in their "clubhouse."
Renovate an Original Camp
One Katahdin Cedar Log Home owner re-purposed his property's original "camp" that was built close to the water for family fun. The original building was gutted and a truss and purlin roof system was installed to reflect the main house open feel. To enhance the outdoor effect, the owners installed fold-up windows to allow for summer breezes to cool the interior space. The fold up and in version of these windows also allow for exterior screens to stay in place when the windows are folded up inside. When down they have an attractive clean appearance with the mechanisms hidden within the side sash moldings.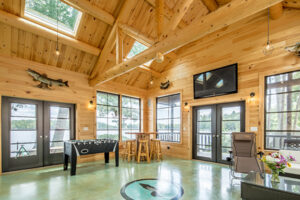 Keep Floor Finishes Simple and Fun
This lakeside play house opted for polished concrete with a playful loon medallion painted in the center of the floor. The smooth surface allows for easy cleaning and low maintenance. High impact luxury vinyl planking would also be an excellent choice for a beachy look and feel. Another option is to apply rubberized garage paint to the floor for a quieter and water-resistant surface. Whatever you choose, play with fun colors and add washable outdoor area rugs for added comfort in seating areas.
Add Options to Suit your Style
Make your pool house double as a bunk house with a simple loft area. The kids can camp out on warm nights and create new wonderful memories. Add storage for pool toys and accessories, kayaks and paddleboards with ceiling or wall racks to tuck items safely away. Attach an outdoor shower to rinse off chlorine sand and dirt before returning to the main house. Outdoor showers can be a very appealing benefit for adults and kids alike. A ping-pong table, foosball or billiard table can offer rainy day fun if there's space to accommodate it.
Enhance Your Outdoor Entertaining
Ensure you're all set for outdoor events with all the elements of poolside parties in your pool house. A good-sized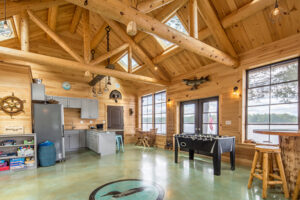 refrigerator, cabinets and bar space for drinks, snacks and hors d'oeuvres can keep the traffic out of the house and around lake- or poolside. Set up outdoor seating both under cover in the pool house and around your deck or terrace and you'll be set for a fabulous fun party!
Simplify Construction
The pool or lake house need not be a huge additional expense. Get a coordinating look with cedar log siding instead of whole log construction and keep interior walls simple like popular camps. Unless you're thinking of year-round use as a guest cottage, you'll likely need no heat or air conditioning. One simple upgrade might be a mini-split heat pump to add warmth on cool nights and extend your pool house season.
Solar Platform
Depending on the size and orientation of your pool house, the roof can provide a simple platform for solar panels to power the accessory dwelling, pool equipment or complement solar on the main house.
Whatever your ideas are, our design team at Katahdin Cedar Log Homes can help you  design and complete a pool house or lake house that will enhance your enjoyment and improve home value over the long term.