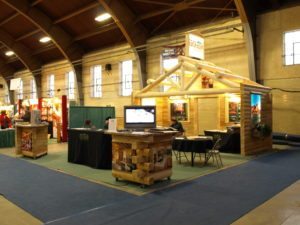 We are so excited to get the new year started on a positive note, when Katahdin Cedar Log Homes returns to log home shows. Quite honestly, there's nothing like in-person conversations about our favorite topics: custom energy efficient cedar log homes. Often these log home shows provide the first steps on a journey that ends in your own Katahdin Cedar Log Home.
It's been a while since these events have happened, so let's provide a quick look at the positives for attending a log home show in your neighborhood.
Meet our experienced team — from log home dealers in your area to sales staff from our home office in Oakfield, Me., we've got answers to your questions and great ideas to share.
Experience a taste of log home ambience in our beautiful log home booth, where joinery, truss and purlin roofs and the Energy Envelope System are on display.
Meet other like-minded folks and share concepts and inspiration about ways to achieve your goals.
Enjoy related products from a variety of vendors. From rustic décor and add-ons like hot tubs, each log home show offers unique goods and services.
We're excited to get started with these upcoming shows, so mark your calendar for the events close to your home!
Jan 28-30                                Saratoga Springs, NY
Feb 4-6                                    Columbus OH
Mar 4-6                                   Burlington VT
Mar 11-13                               Nashville TN
Mar 26-28                               Atlanta GA
Apr 8-10                                 Roanoke VA